10 Facts about Orgasms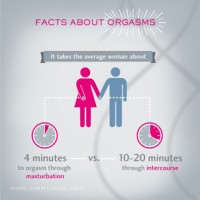 Jimmyjane has compiled some amazing "graphic info" about orgasms. Keep in mind that the tip of the clitoris is packed with nerve endings (twice that of the penis), 48% of women have faked it at least once in their life, and up to 75% of women require clitoral stimulation to orgasm. Oh and remember to keep your feet warm. Socks are sexy and having warm feet might just help you climax.
Without further ado, it is my pleasure to present 10 little known facts about the Big O…
Graphic Info about orgasms
10. 
---
At last, the tenth fact about the Big O– Betty Dotson describes at least 9 different types of
Oh the many orgasms yet to come! There's an orgasm for everyone no matter if you prefer Blended, Multiple or Serial orgasms. Why discriminate? Try to come every way you possibly can. 
Grab a partner and share some of these facts with them. Let's change the statistics so more than 33-50% of women are having the sex life they want.
Infographic by Jimmyjane— it might just be the climax of your week.