14 Days of Foreplay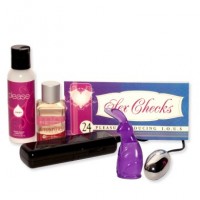 Valentine's Day, better known as Singles Awareness Day for 43% of the population, is 14 days away.  It's a holiday for romance, love, and presents. Or if you're single, it's a holiday for loneliness, despair, and a carton of double fudge brownie ice cream. 
Alright, maybe it's not that bad, but I want you to have a wonderful V-day whether you're single, in a relationship, married, divorced, or in a polyamorous love circle.
For the next 14 days of foreplay leading up to V-day, I'm giving away eight amazing prizes from Good Vibrations and Masque. All you have to do is follow me on Twitter and retweet me to win presents. Or you can share the pictures of the prizes I post on Facebook to win.
You can go to my Twitter and retweet this right now to enter into the contest.
Here's a couple of the other prizes I'm giving away:
 We can only ship to the USA and Canada. Sorry!
xxx,
Emily