MASTERS OF SEX: What Not to do After Your 1st Sex Scene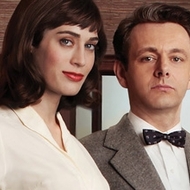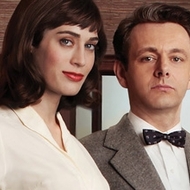 Masters of Sex hottie Lizzy Caplan has been lifting the lid on her first sex scenes with Michael Sheen in the hit show.
But the brunette admits her co-star's antics left her confidence bruised after he raced to the trash can and threw up immediately after directors yelled "cut"…
The actress, who plays human sexuality researcher Virginia Johnson in the series, revealed all when she appeared on Conan.
Lizzy, who stars opposite Sheen as Dr Bill Masters, said they were both nervous going into the sexually-charged moment.
"I was scared, mainly because he was my friend at that point," she told the host. "I don't generally conduct myself in that way with my friends, generally."
She said Sheen also looked flustered, noticing his hands were clammy and trembling as Virginia unbuttons her blouse, unhooks her bra and places Dr Bill's hand on her breast.
But as soon as the cameras stopped rolling, Sheen immediately dashed to a nearby trash can and piked his guts up – an insult to any semi-naked woman, if ever there was one.
However, the actor was forgiven as Lizzy later learned he was suffering from food poisoning.
"In the moment, there's no way to digest that in a reasonable way," she jokingly recalled.
"I thought it was a direct cause and effect. My whole self confidence plummeted to the ground and I realized I'm a monster and anybody who touches me will end up vomiting."
Poor Lizzy, looks like the pair will be getting much more practice in this latest series.