3 Steps to Masturbation Mastery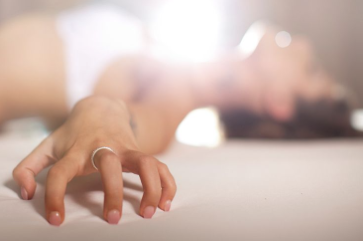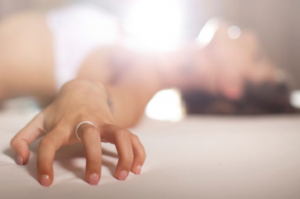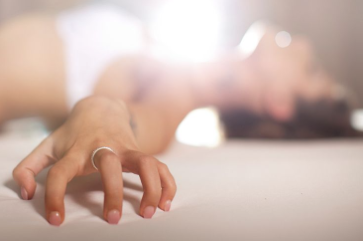 Did you know that masturbation is an actual skill you can improve with practice? Although it sounds weird, it's completely true.
Just like sex, the more you do it, the more you'll find out about what turns you on and gets you to that amazing climax. In fact, for many people , effective masturbation is the key to unlocking a great sex life. It allows you to get to know yourself, how you like to be touched and what type of stimulation you need with absolutely no one around to make you feel self-conscious. Plus, the more orgasms you crank out alone, the more orgasms you're likely have with a partner.
Whether you're a stranger to self-play or not, it's always a good idea to explore your body and pick up some helpful tips on how to make it better. It is Masturbation Month after all. Here are some tricks to help you step up your masturbation routine, however you prefer to pleasure yourself.
If You Use Your Fingers:
Most of us start our masturbation journeys using just our fingers. When you're contemplating whether or not to flick the bean because you're just too damn horny to fall asleep, you're probably not going to have a toy at the ready. You also (hopefully) are not going to stick an arbitrary unsafe object in your vagina either. So, your hands are the only tools you have. Starting with your hands is helpful because you'll learn how you like to be touched and will be able to communicate that to your partner (who also probably has hands). The first time you make yourself climax, you'll feel pretty damn accomplished. Well, I did at least. I gave myself a good ole' pat on the back. If you're new to the masturbation game, I'd start manually. But if you're a veteran and this is the only way you really get yourself off, you might want to try something else.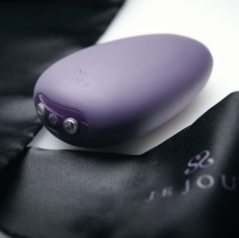 The next step to up your game is to try a small clitoral vibe. Handheld clitoral vibrators are the gentlest introduction to the wonderful world of sex toys. Try something like JeJoue's Mimi Soft. It's a small, egg shaped vibrator that has five levels of stimulation as well as seven different vibration patterns. Now that you know how and where you like to be touched, a clitoral vibe will touch you in ways no human hands can. You can choose patterns, speeds, and power of vibration. When you begin the transition over to toys, you'll realize how intense your orgasms can really be.
If You Can't Get Enough Of Your Clit Vibe:
Most women need at least some type of clitoral stimulation to orgasm. Clitoral orgasms are widely considered the easiest to achieve and takes less and effort time than the elusive g-spot orgasm. Many of you may not even know where your g-spot is, but don't give up hope, there are many methods and toys to help you find your way. If you want to get to your g-spot destination on your own, a clitoral vibe will not get you there. Start off with a mixture of two kinds of stimulation— internal and external.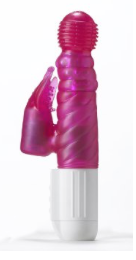 When you want to a g-spot (or blended) orgasm, it's a good idea to should start off with a vibrator that will stimulate both your clitoris and your g-spot, like the Vibratex Sugar Pop. It's a rabbit vibe that has a short shaft that rests on your g-spot without going too far in, while the clitoral vibe surrounds your clitoris from three sides, keeping it in sensational heaven. The shaft has whole body motion twirling, giving your g-spot a unique sensation, somewhat similar to swiveling your hips during sex. If you're trying to get your g-spot to hit the big 'O' but you don't want your clitoris to get jealous, a rabbit vibrator is the direction to go.
If You're Already in the Rabbit Habit:
By now, you've started to accumulate a collection of toys under your bed or wherever you leave them. You have your rabbit and a small clitoral vibe, maybe even a couple varieties of each. You've been using your rabbit often enough to know what a blended orgasm feels like, experiencing climax from both areas at the same time, but you feel like you may be ready to see how powerful a g-spot only orgasm can be. It might be time to dive into the sea of g-spot focused toys. Your G-spot swells and becomes easier to locate when you're aroused, so go ahead and knock out a clitoral orgasm to get your head (and your vagina) in the game. Then, break out your new internal stimulation buddy.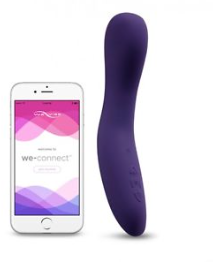 The Rave by We-Vibe is a g-spot vibe with an asymmetrical shape that is designed to hit your g-spot perfectly. This thing is powerful, so if you need a lot of intensity, the Rave has you covered. You insert it and use the handle to apply pressure to your g-spot while it vibrates, then twist. The unique design of the Rave will be sure to find your G-spot wherever it's hiding. There are different patterns and intensities to choose from, and you can even customize your own by using the We-Connect app. You'll be able to find the exact stimulation you need to have some of the best orgasms of your life! After all, what's better than a custom orgasm?
Stepping up your masturbation routine doesn't mean abandoning all your favorite go-to tricks. All you're doing is finding out new and different ways to achieve orgasm so you can change things up once in awhile. Variety is the spice of your sex life! So shake it up, try out something new, you have all masturbation month long.