5 Gifts Your Lover Needs That Won't Cost a Thing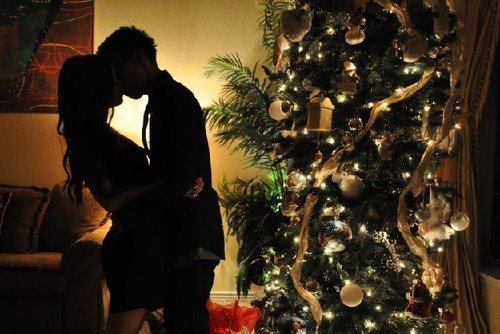 Why is it, that the holidays can still inspire awe and wonderment… in adults?  Especially in our modern times, isn't it fascinating that we still get so excited to celebrate old traditions and sing songs about Santa Claus? We know the truth behind that naughty Elf on the Shelf and we're not likely to hear sleigh bells ring anywhere but the mall. Yet, somehow our eyes still light up and our hearts feel a little more full this time of year. Why is that?
Because love.
But here's the funny thing about "giving love," we each respond differently to different manifestations and expressions of this wonderful emotion. Fortunately, these expressions can be broken down into five primary categories, known as "The 5 Love Languages."
To help you give your beloved the gift of love this season, we're putting a holiday spin on the 5 Love Languages and suggestions on how to implement. You and your partner might speak a slightly different language, and that's totally normal. We're all a little different! Which is why we're going to help you learn how to give your partner the love they NEED and help you find ways to ask for what you need, too.

Physical Touch
This is one of our favorite gifts here at Sex with Emily headquarters because it includes everything from holding hands while shopping, to laying your partner down by the fire to make sweet, sweet love.  It's easy to spot a person who's all about the physical touch… they can't keep their hands off you!  But notice the timing. Does your partner reach for you more often than just when they're in the mood? Do they want to kiss you when you walk through the door, snuggle up during movies, and reach out to touch you during innocuous activities like driving? Those touchy feely darlings crave physical connection and when they get it, their bodies' flood with those "feel good" hormones, dopamine and oxytocin.
Give them this holiday high by offering a full body massage, hang mistletoe and pull them close to you for a passionate make out session, or simply make a point to reach for them and sit close during family dinners. These seemingly minor added points of contact also make a wonderful antidote to even the worst stress.

Words of Affirmation
"You are incredibly sexy and doing a really amazing job!" Isn't that nice to hear? If your partner is a "words of affirmation" person, whispered sweet nothings mean everything to them.  You can generally spot them by their own effusive nature, or possibly by their penchant for romantic movies and songs.
If you're not so into expressing your deepest feelings verbally, than fulfilling this desire for your partner can seem incredibly challenging. But we have great news for you… these words of love can be super simple and still give tremendous joy this time of year! Heck, they don't even have to be your words to get the same positive effects. To give the gift of loving gab, you can offer to read aloud from their favorite book while they relax in the tub or kick back with cocoa. You can write them a little love letter only saying "I love you" and they'll be delighted to find your words. Even just being sure to say "thank you" for all that they do… will mean a lot to your wordy lover.

Acts of Service
There's a reason why many women lust after the handyman and the fireman… They are super helpful! And, believe it or not, for some ladies, that is more arousing than diamonds and roses. Same thing goes for guys, think about it—how hot are nurses and schoolteachers? They don't even need to be in the sexy costume version; the very thought of the good Samaritan can set the loins ablaze.
The lover who wants to tear your clothes off after you did the laundry (without even being asked!) is genuinely turned on by acts of service. Now that you know, it's time to start sweeping y'all! Some of you may be thinking that you're already way too busy with holiday chores to add in baking a cake to seduce your lover, or building a spice rack. The good news is, you can turn all your holiday to-do's into foreplay. Yup. When you're of good cheer while standing in crazy long lines, when you offer to drive so they can send off the last of their work emails, when you take your shirt off to do the dishes… amazing! All of these little acts of help and kindness will excite your productive partner.  Now it makes sense why elves can be so darn sexy.
Receiving Gifts
You know how you can spot a lover who's all about gifts? They are going outside their mind right now with a fervent excitement you'd usually only see on the faces of small children and good dogs. Those who love to give gifts love to receive them too. In a time when we're all getting into gift shopping, you may think these present lovers will be hard to spot. Here are some tips to tell if your partner is following standard holiday protocol or is buzzing with romantic delight at all the gifting.
Do they obsess with finding the perfect gift for you? Have they asked you non-stop about what you really want? Do they already have gifts wrapped and ready for the big weekend ahead? Did they get gifts for everyone they've ever met and are handing out candy to the UPS guy like he's just said "trick or treat" and not just "sign here please"? Maybe you misconstrued this jubilance as merely holiday spirit or maybe you even wondered if it was (yikes) obsession with material things. It's not. For those who literally express love through objects, the objects cease to be mere things. They are infusing these items with meaning and when they hold them in their hands, they hold them in their heart. Give this wonderful love of yours a gift that will last forever by choosing items with sentimental value, and maybe adding extra special wrapping. But more than anything, honor that their love language is being heard and celebrated. Your support and recognition in their love of gifts means so much. Especially right now.
Quality Time
Ah the gift of time… nothing makes you feel like a wise old holiday warlock quite like gifting time. Or for those of you who are more scientifically minded, you may be thinking you need to give your lover a nice copy of Stephen Hawking's greatest hits. (Kidding, we know he writes books). But giving someone quality time can be really easy—especially when you leave magic and quantum physics out of it.
The time part is simple, schedule it and honor your commitment. The quality part can be a bit trickier. Do you take them dancing, to dinner, or for a brisk morning hike? We can't answer that. You'll have to do some sleuthing or just ask your partner what they would like to do. The incredible person who speaks this language isn't as likely to get hung up on the surprise or offering to tell you what sounds fun. But then when they say it, go do that thing. If you're afraid yoga sucks or ice skating is embarrassing, then okay, be a little afraid, but be bold and remember that this hour or two of doing something your partner wants to do means more to them than anything else. And be sure stay present in the moment. Leave your phone out of this one unless it's to take pictures. Don't scroll through FB on this date. Remember this quality time is the gift for them, so treat it as you would a physical present. Make it a priority and then watch as your lover delights in the occasion. And if this wasn't all romantic enough, take a moment to realize all they wanted for Christmas… was you.
***
I think good old Mariah Carey said it best…
"I don't care about the presents underneath the Christmas Tree."
If you've already loaded up on cool gadgets, cashmere and subscription gift sets for you lover, don't worry, they will still enjoy those. But take time to add these gifts of love and see the awe and wonderment of the season flood your darling's heart. If you're wondering how to ask for these love language gifts… forward this article. Or see which expression resonates with you and ask your partner for what you want. Be candid and clear, trust that they want to give you what you want, which is love love love. It can sound so simple, maybe even a bit corny sometimes, but the very foundation of the holiday season is a celebration of LOVE.
It's love that makes this the most wonderful time of the year.