Hot Off the Press: Buzzworthy Sex Toys from ANME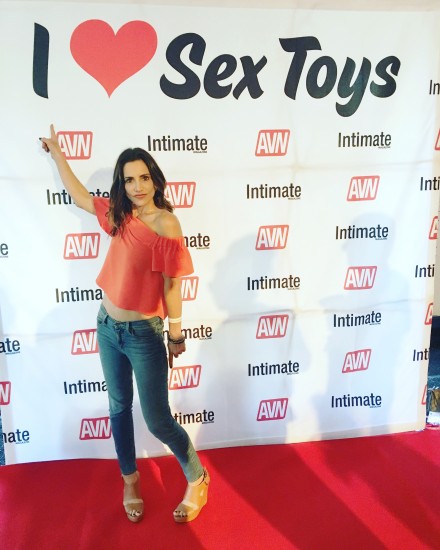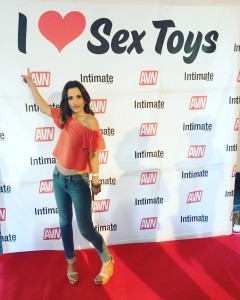 As you have probably figured out by now, here at the Sex With Emily office, we're all about sex toys. Like, if we were in Game of Thrones, I'm pretty sure it'd be the Magic Wand proudly displayed on all our house banners.
Sure, sex toys are fun—and fun to talk to about—but there's more to it than that. They truly help people have better sex! With fresh and current knowledge of the developing sex toy scene, we can better help our listeners boost their sex lives to the next level of pleasure! So when sex toy trade shows like the Adult Novelty Manufacturers Expo roll around, we assemble, observe and absorb all the new products and ideas that it has to offer.
For the past 20 years, ANME has been bringing together the industry's top manufacturers to showcase their newest and most exciting creations. Of course there are sex toys galore, but at AMNE you can also find a plethora of pleasure based products ranging from lubes to lingerie to giant novelty sized dildos and everything in between. On our journey through the wonderland of pleasure pieces and accessories, a few things really surprised, excited and even inspired us—which can be tough to do when you work here at Sex With Emily.
Here are some of our favorite things we witnessed, sampled and swooned over at this year's Adult Novelty Manufacturers Expo:
Sportsheets' Midnight Collection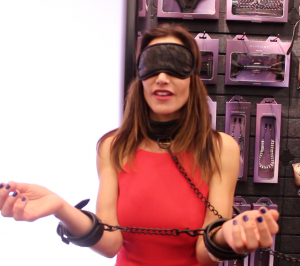 By now, we're used to seeing Sportsheets products that are designed to help you succeed in all areas of your sex life, whether it's to enhance shower play, provide additional support for your favorite sex position or even break into bondage play. Whatever you'd like to explore in the bedroom, Sportsheets has a sling, a cuff or a strap-on for that. But now they're working on something new, something that takes the sophisticated design of their current products and adds even more style.
The new Midnight Collection features a line of beautiful and elegantly designed kink products that are every bit as fashionable as they are functional. When Laurie and I were first treated to a sneak peek of the new products, we both let out a chorus of unplanned "ooohs" and "aaahs" because they really are that attractive. The line includes teardrop nipple clips adorned with sparkly teardrop crystals, a lightweight lace paddle and riding crop, and even a lace-embossed collar and metal leash with a satin finish — All of which are so beautiful, it almost feels like a waste to only bust them out in the bedroom.
Needless to say, we can't wait for the full collection to hit stores this September.
The Buck Dich from Fun Factory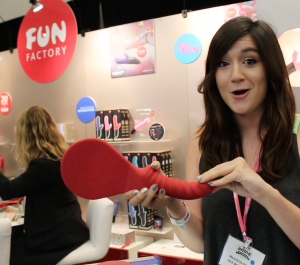 Fun Factory is well-known for their innovative, unique and often groundbreaking sex toys. After all, this is the company that brought you the first-ever thrusting vibrators, the wearable shareable double-dildo and the famous yellow-banded Amorino. Now they've come out with another toy that is unlike any other on the market: The Buck Dich.
At first sight, this toy looks like a brightly-colored ping pong paddle, until you get a bit closer and realize that the handle is really a girthy dildo in disguise. The paddle portion of the toy is covered in the same body-safe silicone as the dildo, with a plastic core inside to give it that extra thump. The insertable shaft is modeled after the very popular Stronic Drei vibrator, with the ridges making for a perfect grip on the handle… All the better to spank you with, my dear.
Buck Dich is literally German for "bend over"—fitting considering that the Germans are known for having a firm hand, so to speak. I tried that bad boy out, and trust me when I say that this dual-action paddle packs a wallop, making it perfect for all types of kinky play. Look for it at FunFactory.com, coming later this year.
The Buck Off (by Buck Angel)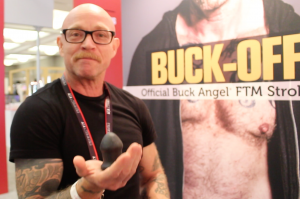 Every once and awhile, you come across a product (sex or otherwise) that really could change the world. That's how I felt when Laurie and I wandered into the Perfect Fit Brand booth and came face-to-face with the Buck-Off.
Created by Buck Angel, well-known trans activist, adult performer and sex educator, the Buck-Off is the first ever adult toy that is specifically made for trans men. As he explained to me, masturbation is a huge part of the transition process and is instrumental in building sexual confidence; Buck wanted to create a product that could help newly transitioned men experience self-pleasure in a way that they physically couldn't before. Thus, the Buck-Off was born.
The Buck-Off is a FTM (female-to-male) stroker, made of a super soft silicone blend that perfectly accommodates the size and shape of the enlarged clitoris following transitional hormone treatments. The inside of the sleeve is lined with subtle ridges for additional stimulation, and the soft, flexible material enables the user to feel every movement as they masturbate, allowing FTM trans men to fully experience the act of jacking off… Or shall we say, Bucking Off?
The G-Vibe Mini by Fun Toys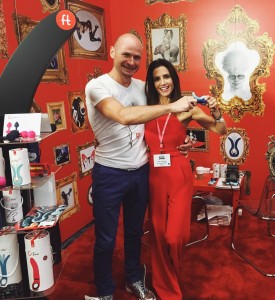 From our smartphone to our smart-fridge to our interactive coffee-makers, we are a generation obsessed with our multi-functional gadgets. We want our toys to do it all and do it well, so of course it makes sense that we are attracted to sex toys that are every bit as intuitive as our other electronics. The folks at Fun Toys know this about us — the get it — which is why their sex toys are some of the most advanced on the market. The G-Vibe mini is no exception…
The G-Vibe mini is the smaller, cuter version of the multi-functional G-Vibe 2, but still has all the functionality and features of the full-size model. It is unlike any toy I have ever seen before—instead of one shaft, it features two flared arms that are powered by individual motors. When inserted, the dual shafts create the feeling of fullness (without stretching!) and provides simultaneous stimulation to both the G-spot and the opposite vaginal wall, which is also extremely sensitive to vibrations. But that's not all! The ergonomic design allows the toy to be used to stimulation a number of different erogenous zones, including the taint, the clitoris, the anus, nipples… Really, anywhere you can imagine!
Great for both men and women, singles and couples, the G-Vibe Mini is extremely versatile and very powerful, making it the perfect "smart" toy. And even better, it will be available soon on the Shop With Emily site.
JO's Gelato Personal Lubricant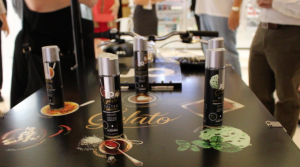 Flavored lubricants are a polarizing product. The idea of ingesting a non-food item engineered to aid in sex acts might turn some people off. And in a lot of cases, the actual flavor can leave a lot to be desired. But when Laurie and I tried JO's new Gelato line of flavored lube, our eyes were opened to a whole new world of sweet, delicious wetness. Available in 5 gelato-inspired flavors, this lube is nothing short of delicious. You'll not only want to lick it off your partner, you might even want to cover your ice cream or sweeten your coffee with it— it's that good.
On top of being tasty, JO's Gelato lubes are toy friendly, pH balanced and get this— ZERO CALORIES! They're so good that Emily even hijacked the Gelato lube-mobile for a joyride around the expo! From hazelnut espresso to mint chocolate chip, all 5 flavors of this groundbreaking flavored lube line will have you licking your lover all over and coming back for seconds.