6 Useful Things I Learned From Porn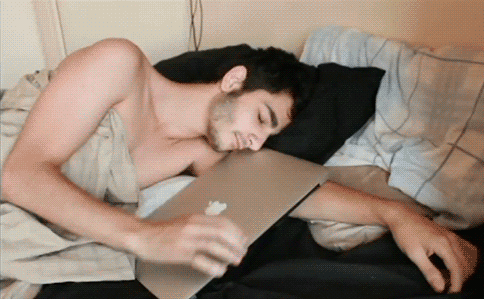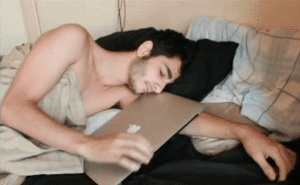 Although I don't remember the first time I stumbled across porn, I was definitely very young and quite uninformed. I'm sure I had but one stray pube, and was most likely beginning to struggle with my sexuality. At the time, porn served as entertainment, really. I didn't even masturbate to it because, in all honesty, I had no clue what was going on.
Nonetheless, it became a bit of a hobby of mine. And because all the boys at school were talking about it, I felt like I was part of the cool kids' club. It was fun and innocent (kind of) at the time, but none us thought these images of porn gods and goddesses would skew our perception of the realities of sex.
Porn was our instructional manual, and until sex education came along (or didn't come along, as the case may be) it was the only source of information we had.
Now that we're adults, we know (hopefully) that porn does not resemble reality. We may still make comparisons from time to time (I get pizza delivered all the time, where's my hot delivery guy with a mouth of gold?), but we are able to separate the gang-bang facts from fiction.
Still, as long as you're not getting the entirety of your sex information from Back Door Sluts 3, there's no harm in taking a few pointers from people who do this at a professional level. Finding that takeaway starts with a basic understanding of real-life sex. Once you have that, you can start to think about what you can pull from your favorite erotic films.
What gets your engine revving? What scenes would you love to roleplay? Is there a move that seems doable you've been wanting to try? Maybe you need some inspiration for initiation?
Here are a few of the things I, myself, have learned from good ole pornography.
Foreplay
Okay, so most of the porn clips I watch aren't big on elaborate foreplay scenes (probably because there's no fucking involved), but once you start getting into full videos… Well, the foreplay becomes it's own main event. I used to think what came before intercourse was nothing more than some mild make outs and a quick blowjob before the real action. Boy, was I wrong!
I learned that you can easily improve your routine by slowing down and taking the time to really arouse your partner. A few foreplay acts that have turned into some new favorites of mine are nipple play, erotic massages, mutual masturbation, and sensation play. Another thing I tried recently that completely blew me (and my partner!) away was analingus. If you've ever contemplated it, it's time to let your partner toss your salad because it really does feel amazing down there.
Dirty Talk
Just like with any other type of communication, there's more to dirty talk than what you say. It's also about HOW you say it. Look at any random porn clip, and you'll be sure to hear a combination of moaning, grunting and screaming, sprinkled with a few "daddy"s and some clearly rhetorical questions (i.e. "do you like that"… he clearly does). The problem is, most of these mid-sex utterances sound anything but natural.
Being the quiet lover that I am, I did my best to filter through the over-the-top dirty talk in porn to find some meaningful tips to use. Right away, I noticed that most phrases we hear in porn are accompanied by the appropriate body language. Commands were given with eye contact, grunts during oral sex were followed with arching backs; when the "fuck yeah's" and "don't stop's" were coupled with corresponding non verbal cues, they seemed a lot more believable, and therefore, HOT.
While I may not take these exact phrases, seeing this taught me to check in with my partners during sex. Giving auditory validation or commands lets your partner if they're doing something very right, or need to change direction. They'll be turned on at how turned on you are, remembering what you sound like when something's going very right, or be thankful that you can tell them what they need to be doing instead. Either way, you'll both be on the same page.
Sex Positions
Pornstars are essentially sex acrobats, so while you're watching them fly through a range of Kama Sutra-grade positions, keep in mind: they're professionals for a reason. However fun and visually pleasing these positions may seem, most of us just don't have the balance, flexibility, or sexual stamina to recreate them. But we're not talking about treating porn like a step-by-step manual, and there's nothing wrong with pulling a little inspiration from those popular porn poses.
So maybe you and I can't hold our own body weight in the air while giving a master blowjob, or keep our junk in the right holes whilst standing on one leg, but we can try out similar positions that are more our speed or create our own variations… You know, ones that won't end with an anti-climactic trip to the ER.
Recently, I saw a scene where a woman sat on a man diagonally (they were in an X position), while they were laying on their backs. It was something I had never tried, but looked completely doable. While it may not have been as graceful as the actor portrayal, it turned out to be totally comfortable and fun once the rhythm was set! Not to mention the amazing stretch on my thighs…
Oral Sex Techniques
I think we can all agree that our first couple takes at oral sex are awkward as hell. But hopefully with a lot of practice, directions from partners and advice from friends, even the most hopeless of us can improve our head-giving game. It's only once we've got the formula down that we start looking for ways to spice up our oral sex game — that's where porn comes in!
When watching those steamy scenes, I try to look for techniques that I don't already do. Maybe it's a new way to incorporate my hands into a blow job, or a new way to use my tongue to tease my partner. Just this morning, I watched a guy squatting over another guy's face to slowly lower his penis into the his partner's mouth. It was incredibly hot to watch this change-up on oral positioning, and I'm sure all those squats are a great ass workout. Plus, the view from the floor is probably amazing, amiright?
Size Doesn't Matter
The great size debate has haunted men for centuries, despite constant reassurance from their partners. As a somewhat average-sized man, I, too, was affected by this subject… until I finally stopped comparing myself to the hung bastards in porn.
I made a decision to accept my size; from that day forward, I left "big dick" out of my search terms, only to find out that there's plenty of porn out there that features guys my size! These stars were working confidently with their average-sized packages, using tricks and positioning to make that porn magic. In fact, I was even more turned on watching a guy my size do porn because, hey, average is sexy, too! As they say, it's not the size of the ship, but the motion of the ocean. So, next time you're feeling dissatisfied with your package, follow my lead and treat yourself to some regular-sized erotica. Who knows, you might even pick up a new move or two?
The Most Important: What Turns You On
Some of us have trouble tapping into our sexual fantasies or figuring out what exactly turns us on. Well, the greatest use of porn is to jumpstart your sexual imagination. Do you get extra tingly during an extended foreplay scene? Do you feel an extra boost of excitement when bondage comes into play? Or maybe something light, airy and female-focused is more your style?
Figuring out what turns you on is the most important work you can do in the bedroom, and sharing it could make for the best sex yet! And hey, some fantasies maybe just for you, and that's okay too.
* * *
Yes, porn is generally the dramatized version of real sex, and no, you probably can't accomplish most of what you see. While stigmatized, pornography can actually help you learn a thing or two — if you read between the poorly scripted lines. We all need a little inspiration now and then, and what's better than visual representation to spark that flame? All I'm saying is, don't knock it until you've tried it