7 Heavenly At-Home Date Ideas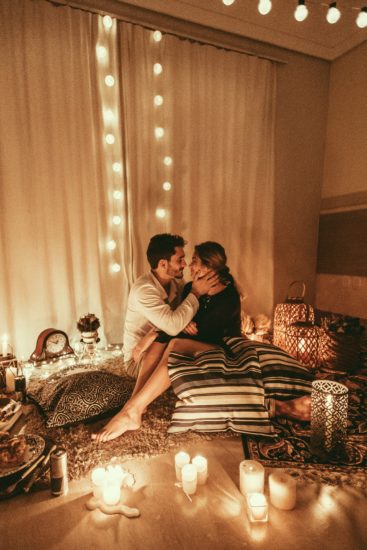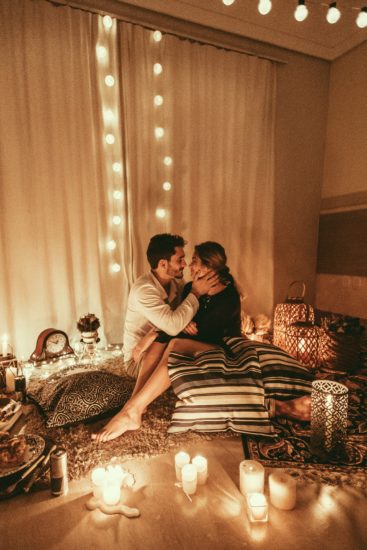 If you're anything like half of the world right now, you just might be stuck at home.
For a while.
Potentially, a long, long while.
But even though we're homebound, life goes on! Bring some joy into your life by appreciating the extra time you have with your sweetheart. If you're single, treat yourself to any of these activities and have a date with yourself!
Here's some at home date nights to use in this time of social distancing, or just to have a cheap, but sweet, date at home.
1. Cook Together
Spending some practical quality time together is always a good idea. Cooking together isn't only a good way to get dinner on the table, it can be a great way to accomplish something as a couple.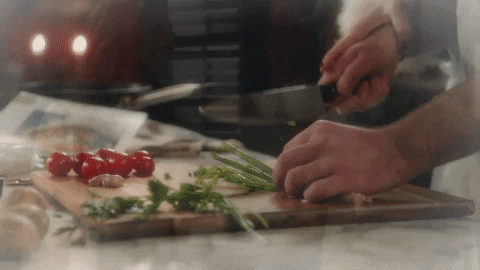 Try out a new dish together, make your favorite prepared food from scratch, or just make that box of mac and cheese into something extra special (hint: add extra cheese and green onions and you've got yourself a bougie mac). Taking the time to cook together can be a great way to unwind at the end of a long day.
2. Have A Candle-lit Dinner
Get out those emergency candles out because it's about to get hot in here! Take that dinner you just made to the next level by upping the ambiance. Candle light isn't only romantic, it's a good way to change up the dynamics your home decor which I'm sure you've been spending a lot of time in. Set the table, put on a real date night outfit, and imagine you're in a real life fancy restaurant! Turn off that overhead light, light some incense and make your living room into a mood!
3. Wine Tasting
A fun way to indulge during your stay at home is to have some extra-special wine time! Change up your normal after dinner glass of vino and doo a taste test of a few new wines instead of sticking to your trusty fav.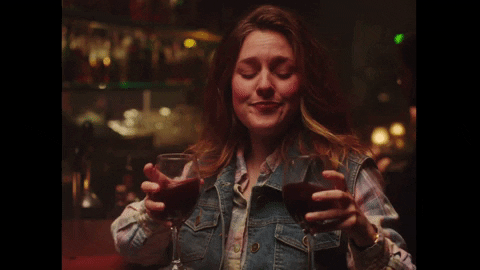 You can try and Somm' it up by doing some light research beforehand. Make it a fun learning experience with a romantic twist! Pro-Tip: wine keeps in the fridge for 1-2 days if you put the cork back in, but even longer if you get vacuum-seal corks. Not a heavy drinker? You can also get half bottles at most liquor stores!
4. At Home Spa
If anxiety is getting the best of you, it's a good idea to take some time to relax! The good news is that while spas are closed, you can bring the spa home without a ton of effort! Get that bathroom nice and clean, and then draw a bath for your lover. Add in some Epsom salts (to relax the body) and essential oils (to relax the mind). If you don't have a bath, grab some massage oil and give your baby a nice rub down after they shower! You can find mani-pedi kits at most pharmacies, if you're down to get up close and personal with your sweetie's cuticles.
5. Movie Night
If you're anything like me, you've probably already ripped through most of your Netflix watch list. So instead of binging on the Office, take the movie theatre home with you! In light of the current pandemic and it's closing of non-essential businesses, most new releases are opting to release online instead of in the theaters, so take advantage!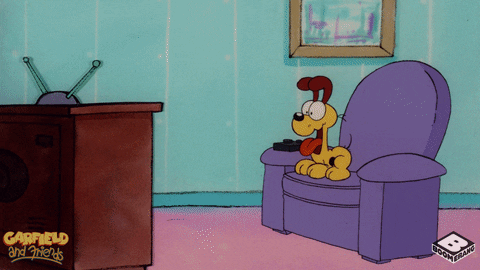 It's cheaper to stream a movie in the comfort of your own home than splurging on movie tickets anyway! So make some popcorn, grab a nice big glass of wine, and watch the latest with your honey!
6. Game Night
Being stuck inside can get kind of boring, but your date night doesn't have to be! Stimulate your mind with a game or two. Opt for a classic card game, or a long term logic game like Settlers Of Cattan. You can also get creative and get to know your partner's communication style better with games like Taboo or Pictionary. Cards Against Humanity is also always good for a laugh. Whatever game you choose, don't get too hung up on the rules. Date nights are about having fun, not creating a new thing to argue about.
7. Fondue!
Roses are red, violets are blue, literally EVERYTHING tastes better when it's covered in melted goo. This is just a fact of life! Make your meal into an adventure by dipping your favorite foods into a melted pot of one of the best foods known to mankind: chocolate and cheese.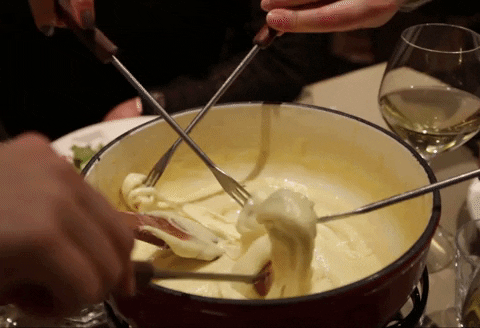 If you don't have a fondue pot, you can make your own by making a double boiler on the stove to melt down your medium of choice. Then, use chopsticks or a fork to dip! It's so simple and honestly my literal dream date. Please take note.
***
Whether you're staying at home to save money, or practicing social distancing, the most important part about an at home date is to take time to let your sweetie know that you care! The smallest acts can accomplish that: some flowers, a card, an extra long kiss. At the end of the day, what makes it a date is the fact that you're together.
---
Tessa Skara is a writer and comedian. She is bravely bicoastal. She loves all things queer, including, but not limited to sex. Follow her on Instagram @tessafuckinskara.