How to Give a Hand Job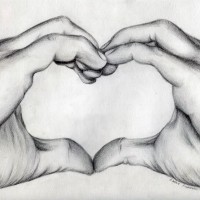 Many consider the Hand Job (HJ) a lost art form– an uncherished relic from Sophomore year of High School. When a BJ seems too ambitious, you give dry-handed tug. The hand job is half-assed because people don't put their hearts into it, and don't use nearly enough lube…
Man mastered the hand job on himself out of necessity. He realized around age 13 how amazing his penis is, and how no one will even think about touching it for at least two years. But even if you don't know the exact rhythm and pressure he prefers, you have the advantage of not being his left hand, and having boobs.
While the hand job should probably not be your go-to move in the bedroom, give it a second chance. Perhaps you're feeling nostalgic tonight.
Try asking him what he likes and wrap your hand around his penis. You don't want to gently pet his penis or suffocate it.
So, get a grip:
 Make the "Ok" sign with your fingers. Wrap your fingers around his penis with your index finger or middle finger meeting your thumb.  This "Ok" grip will allow you to travel the full length of his penis.
Sausage wrap- wrap all of your fingers around his shaft with your thumb at the top or at the bottom (depending on your preference).
If you're feeling more than just Ok about your Hand Job skills, try using two hands.
Different strokes for different folks:
Hold him around the base of his shaft. As you glide your fingers up over the head of his penis, tighten your grip (but not too  tight).
Before you start making your descent to the base of the penis, loosen your fingers.
Use your other hand to caress his balls, if he is into that kind of thing
Give it a twist up and down the length of his shaft. You can also do a double twist by twisting both hands in the same direction and then back again. Or try twisting your hands in opposite directions.
I hope these tips will make your next hand job simply amazing, or at least bearable.