A Tale of Four Trysts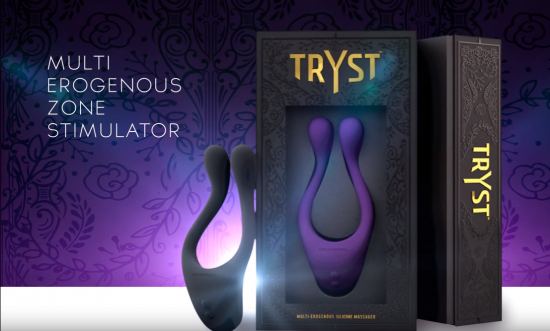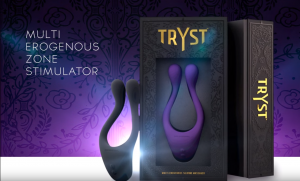 Here at Sex With Emily, we go through a LOT of sex toys. From penis rings to panty-vibes to high-tech teledildonics (toys that allow people to have sex remotely), we've seen them all! It's not everyday that one comes along and totally sets itself apart from the rest. So when the Doc Johnson Tryst was given the prestigious recognition of "Sex Toy Of The Month" by Cosmopolitan Magazine, we knew we had to give it a try.
For a toy to go from good to amazing, it's got to have that X-factor, that special something… that je ne sais quoi! Well whatever that "it" thing may be, the Tryst by Doc Johnson has it in spades. It's shaped a bit like a flexible horseshoe, has 3 independent motors and is made of top-of-the-line body safe materials, but what truly makes the Tryst unique is its versatility.
The ways this toy can be used to enhance sexual pleasure are only limited by the user's imagination (sounds a little Willy Wonka, but bear with me here—there are a couple orgasms at the end of this chocolate river). The Tryst can be used as a penis ring, a simple hand-held vibe or an insertable toy; it can be worn during sex with a partner or used for solo play; it is designed to stimulate the clitoris, the G-spot, the balls, the taint, or even brought up top for some nipple action! Like I said, the possibilities are endless… (Check out this video to see for yourself!)
To explore just how versatile and innovative the Tryst really is, each of us here at the Sex With Emily office took one home and tried it in very different situations. Here's what we all figured out about how the Tryst plays into our pleasure…
Emily:
If you've been listening to the show for awhile, you know that I've coveted the elusive nipple orgasm. I've made peace with fact that my friend Jane* (who *name has been changed because she'd kill me) will have an immediate nipple-gasm if her boyfriend lightly sweeps his hand across the top of her tank top. 
So when the Tryst came with an offering of nearly a dozen ways to use it, my eyes immediately went to the nipple shot. That is, the one included in the easy-to-digest diagram included in the handy reusable storage box. The picture displays the Tryst huggling a nipple like a sexy wishbone. I knew I'd start there.
Well, it didn't give me a nipple orgasm as much as a nipple party. There's a lot of power in the Tryst's arms and I could twist and vibe in ways that felt amazing. I had to try out the other suggested "uses" and wow! It truly is a one toy-serves all. I love how you can separately control the motors in the arms and base. The Tryst felt just right in almost every spot I placed it, so obviously I tried as many as I could. Except for the C-ring part, because hey, this self love session was all about me.  The Tryst is engineered for supremely pleasurable labia stimulation, clitoral, and G-spot. The thing that I love most is that it's the perfect toy for when you're not sure exactly what you want (except pleasure) because it does it all.
Madison: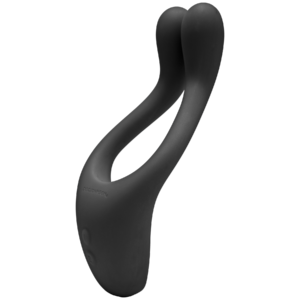 As it so happens, we received our bundle of tester-Trysts on the eve of my 3-year anniversary. Needless to say, I knew how my boyfriend and I would be commemorating the momentous occasion. After a couple celebratory margaritas, I have to admit, the Tryst did seem a bit overwhelming—There were so many ways to use it, we didn't know where (or how) to start. Luckily the ergonomic design made it pretty hard to mess up. Once we had it on, it fit in between us like a glove… But I'm getting ahead of myself!
There are two different ways you can use the Tryst during partnered sex: You can try it with the two arms posed upwards and the wider base on the bottom, or you can flip it around so that the base sits on top of the shaft and provides targeted clitoral stimulation, while the two arms reach down to stimulate the testicles. We started off in the wheelbarrow position, with the toy's arms on top, curved to frame my vulva, and the base snuggling his testicles in a firm but comforting hold. I was amazed at how easily the toy complimented both of our bodies. Its flexibility allowed it to move when we moved, it did not slide around or get wedged into an undesirable spot, and it even warmed to our body temperature! Were it not for the powerful vibrations, we might have forgotten it was there.
My boyfriend is not hyper-sensitive when it comes to vibes, buzzes and rumbles, but he did enjoy the pressure against his "boys" and liked the subtle feel of the vibrations while he was inside of me. I, on the other hand, was on Cloud 9! The two arms of the Tryst were positioned perfectly around my clitoris in a way that was pleasurable without being overpowering. I'm personally more of a left, upper-quadrant girl, so the placement of the toy's independently-motored arms was exactly what the Doc ordered… See what I did there?
We had fun cycling through the 7 different vibration patterns (both for the arms and the base, which are powered independently) and trying to match our rhythm with the various buzzing functions. As we neared our grand finale, we switched positions into girl on top, flipped the toy upside down so that the base cupped my pubic mound and the arms curved around his testicles. With my weight pressing the toy against him, my boyfriend was able to feel the full force of the vibrations against his groin which was enough to send us BOTH over the edge. And a happy anniversary was had by all!
Laurie:
My boyfriend has never asked me to use a sex toy on him. Don't get me wrong, he's a huge fan of sex products, but he usually prefers to watch me use them either while masturbating or during intercourse. So you can imagine my excitement when I brought home the Tryst and the first thing he asked for was a Tryst-assisted blowjob. He had never before been interested in pleasuring himself through the method of vibration and I thought to myself—there is definitely something special about the Tryst.
So once we got our sexual engines started, we placed it around his penis, with the base motor positioned at the base of his shaft, and I got to work. Starting at the lowest level of vibration, I could immediately tell that for him, this was no ordinary blowjob. His body was squirming more, he was incredibly vocal, and when I glanced up I could see that he was wearing a big fat smile. When I asked him how it felt to which he replied with enthusiastic (although distracted) head nods. He especially enjoyed when I applied pressure and pushed the Tryst down onto his scrotum…I guess he does like vibrations after all.
After finishing, he was so excited about the success of his venture into vibration, he wanted to use the Tryst to assist while he went down on me. I obviously didn't put up a fight and we flipped the Tryst upside down with the base above my clitoris and the arms hugging the lips of my vagina. Not only did this provide my boyfriend with the perfect little landing area for his tongue, but it also stimulated parts of me that so often go neglected during oral sex. It was so exciting to be able to share a toy this way. On top of the fact that it felt extremely good, it was kind of like we bonded in a new sexual way. We'll definitely use it again.
Jamie:
When I was handed Doc Johnson's Tryst, I was intrigued, intimidated, and confused all at the same time. I had never seen a toy with such a unique shape; looking like a wishbone, but flexible and sleek. I was unsure how I was going to approach the toy, I mean, there are so many ways it can be used by yourself or with a partner. With a partner, you have a little help in the decision process, but I was going solo on this mission. Should I hold it and let the arms embrace my clitoris in a heavenly vibration, or use the arms as a handle, using the more powerful vibration from the base, or insert the arms, using both ends to hit my g-spot? I decided I was going to try a little of each.
First, I gently placed the arms snuggly around my clitoris to warm myself up, starting off with a low vibration setting, slowly increasing it the more excited I became. It almost felt as if the arms were giving my clitoris a sexy hug. When I felt that I was getting closer to orgasm, I switched on the motor in the base and quickly flipped the Tryst so that the base was now in direct contact with my clitoris. WOW. That guy was powerful. I had such an intense clitoral orgasm, it left me wanting more. I changed gears and decided to take the g-spot plunge. I turned off the base motor and returned the arms to the second lowest vibration setting and inserted both arms inside. The base proved to be a firm handle, and the lower I held it, the better the curved end of the arms rubbed my g-spot. It perfectly simulated the "come hither" motion that I would feel from a partner's hands. Because I was still revved up from the clitoral stimulation, it wasn't long before I was climbing towards climax once again. I increased the vibrations higher and higher until I finally was able to have an internal orgasm.
Needless to say, after spending some quality time with the Tryst, I completely forgot about my previous apprehensions. It's an incredible toy because you can pick your journey. Partner, solo, clitoral, internal, the possibilities are endless. I would definitely advise you to put your trust in the Tryst.