The Ally's Guide To Pride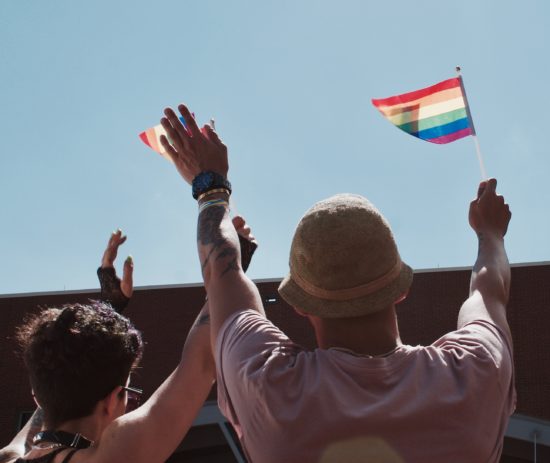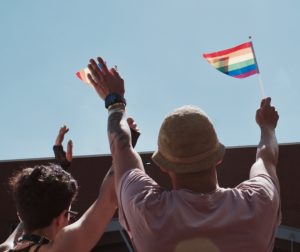 June is the month of pride for LGBTQIA+ people all around the world. And though it's a time for us to celebrate, you don't have to be queer to join the party. Being a queer ally can feel like a complicated concept, but it just takes a little bit of work.
To be a queer ally, this year and every year, means coming in service to queer people, especially queer people of color. It's listening and reflecting. It's understanding how systems of oppression work and your role in dismantling those systems. It's learning, but more importantly, it's unlearning.
Here are some first steps toward being a supportive ally.
1. Understand History of Pride and its Relevance today
Since its inception, Pride has become an exciting and colorful celebration of queerness. It's full of parades and dancing and glitter and day drinking and partying all night. And while it's beautiful and important to be able to celebrate queerness and to bring joy and happiness into the queer experience — this year, amidst the current protests happening about police brutality and the treatment of Black people in America, it's seems irresponsible, if not completely impossible to not reflect on the real roots of Pride. To go back to the history of queer rights in America, especially for queer and trans people of color (QTPOC).
It's not a coincidence that Pride happens in June. It wasn't a happy accident or because the warm weather allows for rainbow bathing suits and outdoor parties. Pride happens in June because of the Stonewall Riots — six days of protests, riots, and violence started from a police raid of a gay bar in New York City in June of 1969, led by trans women of color like Sylvia Rivera and Marsha P. Johnson. Some 50 years later we're still fighting racism and systems of oppression. We are still seeing Black people face higher rates of violence from the police. Trans Black women are murdered more than any other group of people.
2. Learn about Anti-Queer Policy
To support queer people means to be educated on the issues that queer people face. It means reading up on the history of queer libration in this country, and on current polices that affect queer people. Understanding systems of oppression is the first step in learning how to dismantle them.
Yes, queer people are strong. Yes, they are resilient, they are inspirational and resourceful. They are this way because they have had to be this way. To this day, sexual orientation and gender identity employment discrimination is legal in a number of states. Meaning, you can legally fire someone for being gay, or not hire them in the first place for being trans. Queer (especially queer people of color) people face high rates of homelessness and employment, depression and suicide, drug use and HIV. Queer (especially queer people of color) people are kicked out their homes and communities for being queer.
3. Support Queer Businesses/Non-profits/Organizations
Sometimes, being a good ally means putting your money where your mouth is. If you're looking for a rainbow flag to hangout or an outfit to wear to a Pride event, do some research, and buy it from a queer-owned company. It's really cool that you can get Pride merchandise at Target and Walmart now, but those store aren't run by queer people, and frankly, they're making a profit out of the hardships that queer people have had to face.
Look into non-profits and organizations that help queer people. If you aren't able to give a monetary contribution, see if there are other ways you can contribute. Perhaps you can edit a website or do graphic design. Rather than just posting on social media or talking about how your support queer rights, look into direct ways to help queer people, maybe it's donating clothes to a queer homeless shelter, maybe it's giving money to a queer education non-profit.
4. Confront Queerphobia When You See It
If your friends make a harmful comment or your work has some queerphobic policies — call it out. Establish that using homophobic language is not OK, let your friends know that being transgender is not a joke. Being a supportive ally means being an ally all the time, not just when people are watching.
We're in at a unique point in history where the population is learning and growing together towards being inclusive. Make the most of it!
5. Take The Responsibility Off Queer People
Your queer friends are not responsible for educating straight people about queerness or combating queerphobia. You need to find ways to fight it yourself. Normalize asking for gender pronouns. Educate your friends and family when they are confused about gender neutral bathrooms or don't understand what bisexual means. Read up on your local government. Use your privilege and platforms to help queer people.
6. Don't Make It About You
This is not the time for your hot takes on how hard it must be to be a queer person, nor is it time to paint yourself as a modern day Mother Teresa. Being an ally means not making this about you. You're coming in service to help others. You're listening more than you're speaking. Let queer people lead the conversation and decide what things are helpful or unhelpful.
---
Griffin Wynne is a non-binary writer, artist, and plain seltzer drinker. When they're not discussing sex in the ~digital era~ or crying to the Dixie Chicks, Griffin enjoys camping, reading, used clothes, and documentaries about cults. They're a Capricorn King, a genderless cowgirl, and a '70s mama who is always down for dollar oysters and road trips. Griffin uses they/them pronouns and has the same birthday as Kyle Richards.