ANME: Behind the Scenes of a Sex Toy Expo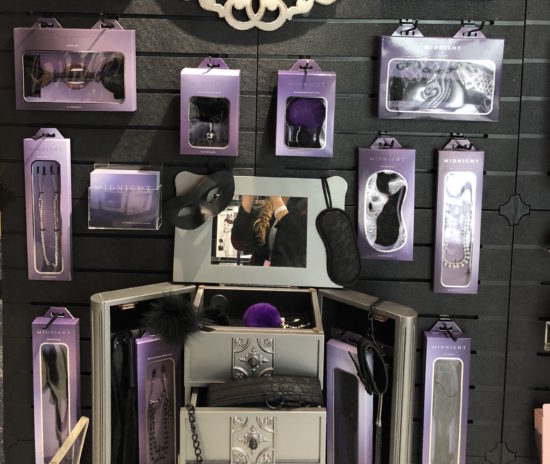 The Adult Novelty Manufacturer's Expo.
Though the name doesn't necessarily sing sexuality, the experience certainly did. Last week, we had the pleasure of accompanying the marvelous Emily Morse to this S-expo that happens twice a year (in January and July), showcasing some of the top products on the market.
Imagine an adult Disneyland – a place to see and experience what goes on behind the sheets, I mean scenes. And playground it was. The exposé was composed of two large conference rooms and a large outdoor tent.
In each, were the suppliers, sponsors, and makers of all things sex. I saw things I hadn't yet dreamed of and touched textures I didn't know were possible to replicate.
I definitely groped more than one butthole (on a sex doll) in public, for far longer than I or the sales rep had expected. I tip my hat at the masterminds that were able to replicate the smoothness of skin, the playful jiggle, the softness usually saved for the human body. Although the realism was a touch on the eerie side, I also couldn't stop touching the poor lady-doll and coveting her lacy attire.
The entire affair is set up like many an expo – with brands owning stretches of space that they can decorate and lace with their newest inventions. Like proud and sexy scientists, every rep was ready and excited to share their beginnings, middles, and end results.
It's touching to see that most of these toys are made by personal inspiration or a commitment to sharing and expanding pleasure. Each inventor proudly standing behind what they're contributing to the evolution of sex.
One thing I wasn't expecting was how wonderful everyone was to each other. It was like being at camp. A summer camp that people go to every year because they love their job and believe in what they do. The word "family" was present in almost every conversation. Not just in reference to the intimacy playground, but to the people around these shows. At lunch, we went to a tent with two rows of delicious and varied hot foods, desserts, and cheeses to then sit at round tables and converse with people who hugged and greeted each other like old, old friends.
Emily went from setup to setup, committed to sharing on camera a glimpse of what these expos are like, and to explore what was new in the lands of toys.
While Emily has been many a times, here were some of the highlights for myself – an ANME virgin.
The Womanizer: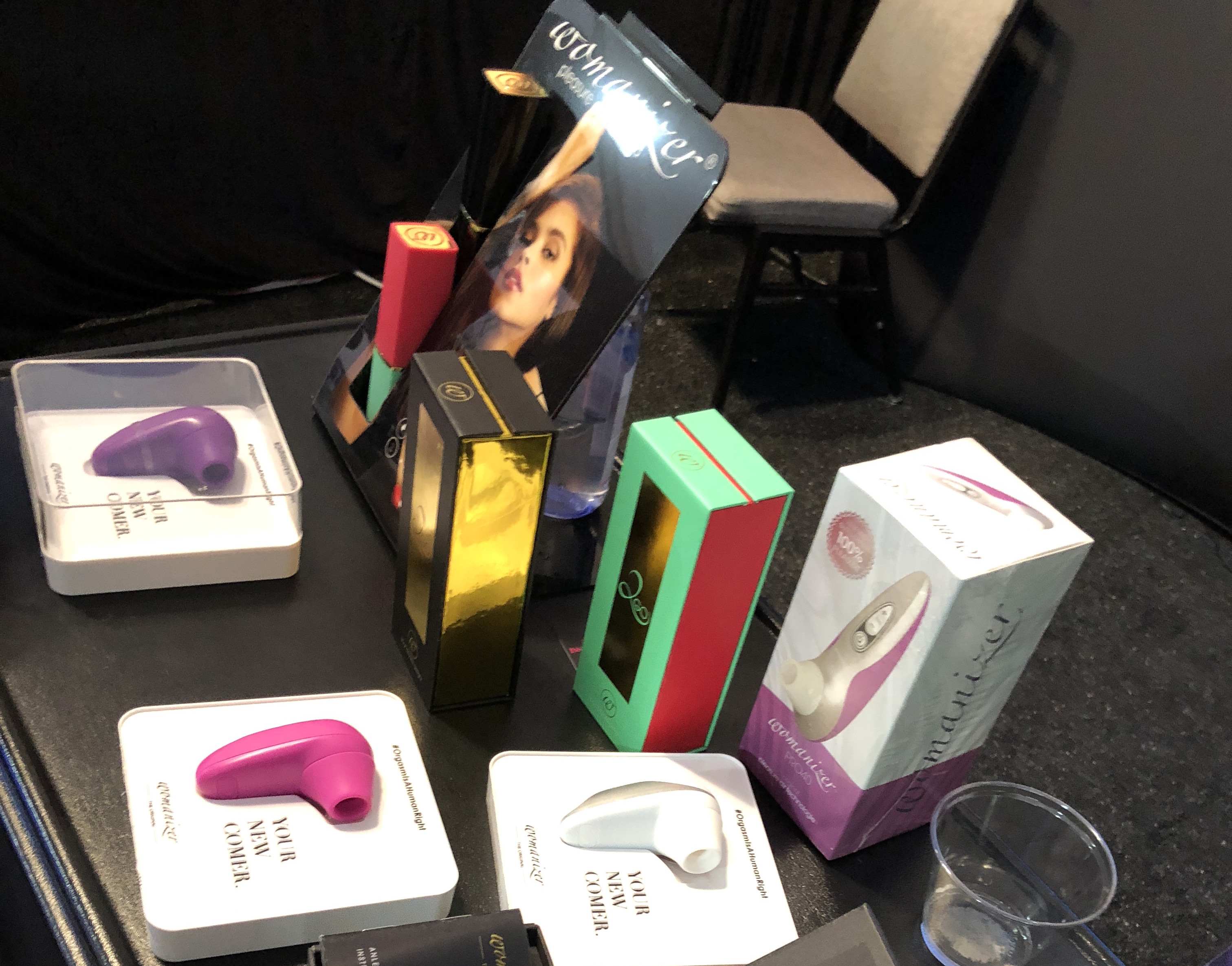 I cannot speak highly enough of this company or toy. If you're afraid of desensitization via vibration from your sex toys, these are the Germans for you. Using pleasure air technology, this company has mastered indirect clitoral stimulation. They've now expanded to blow our minds with a toy that stimulates through pleasure waves of air, simulating something very similar to oral sex. Genius. Sheer, clitoral, genius.
I saw Jamie's (Emily's associate producer) eyes sparkle with the light of miracles when she saw the newest addition to their family – the mini Womanizer: starlet (your new comer).
Need I say more? I don't understand why it hasn't been named president. Especially as anything goes these days.
Sportsheets: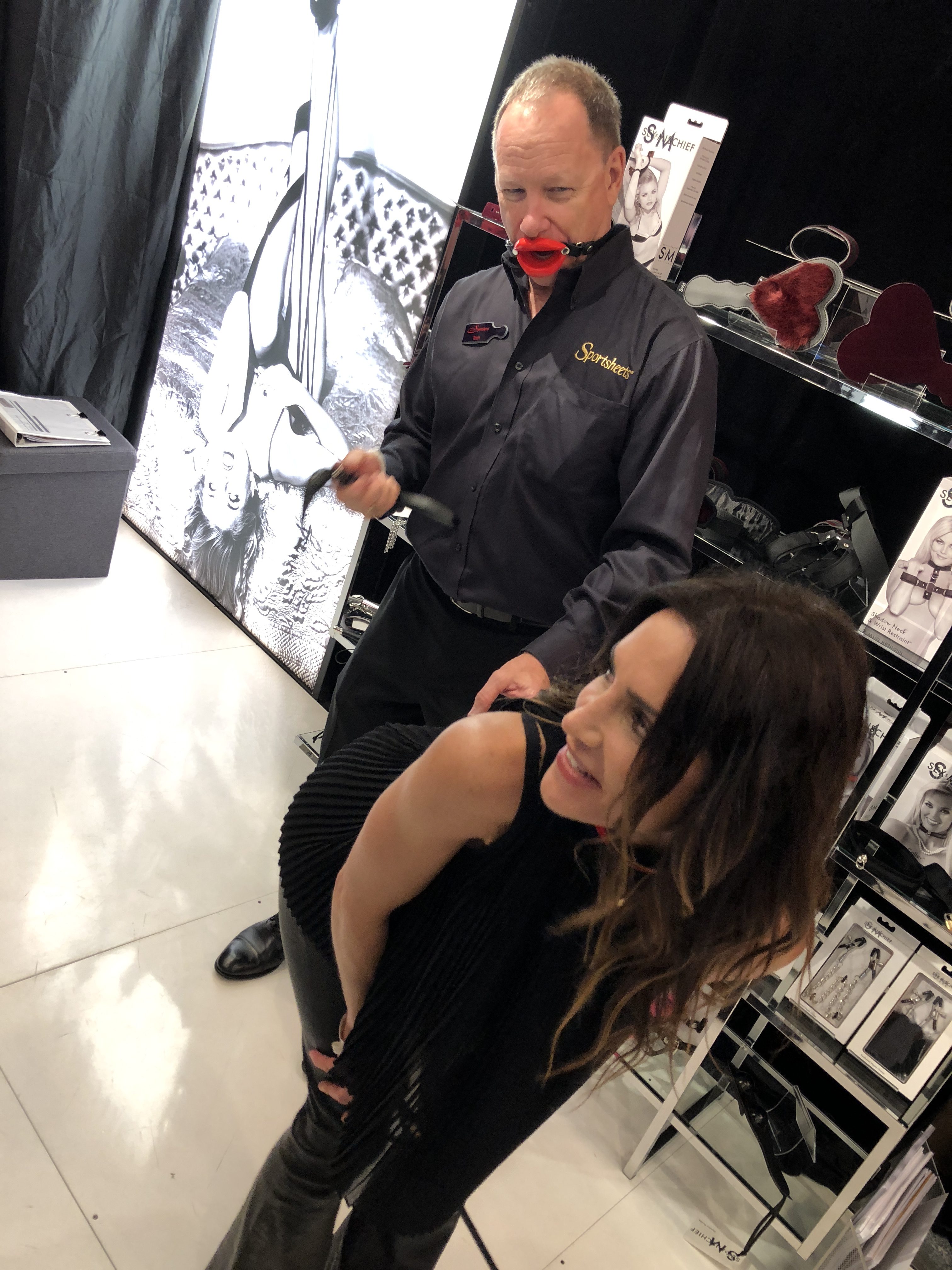 My next epic stop. This was because of their new burgundy line of toys (sexiest color in my opinion), but also because I got to meet the makers. A brother and sister who have as much fun as their clients making their toys as they do playing with them. I was introduced to Tom whilst he proudly wore their new silicone gag lips that allow you to talk as you wear them.
That's him, spanking Emily with their new flogger. This was hilarious, playful, and light, which also led to me meeting his sister, Julie. Totally normal, right? Their story is beautiful and really brings a whole new layer to the family feel of this business. Tom's wife was close by, as well as the whole Sportsheets crew, sharing warmly with us stories of camaraderie and laughter. If I wasn't surrounded by dildos, ball gags, and whips, I could have sworn I was at a family holiday party.
Dame Products: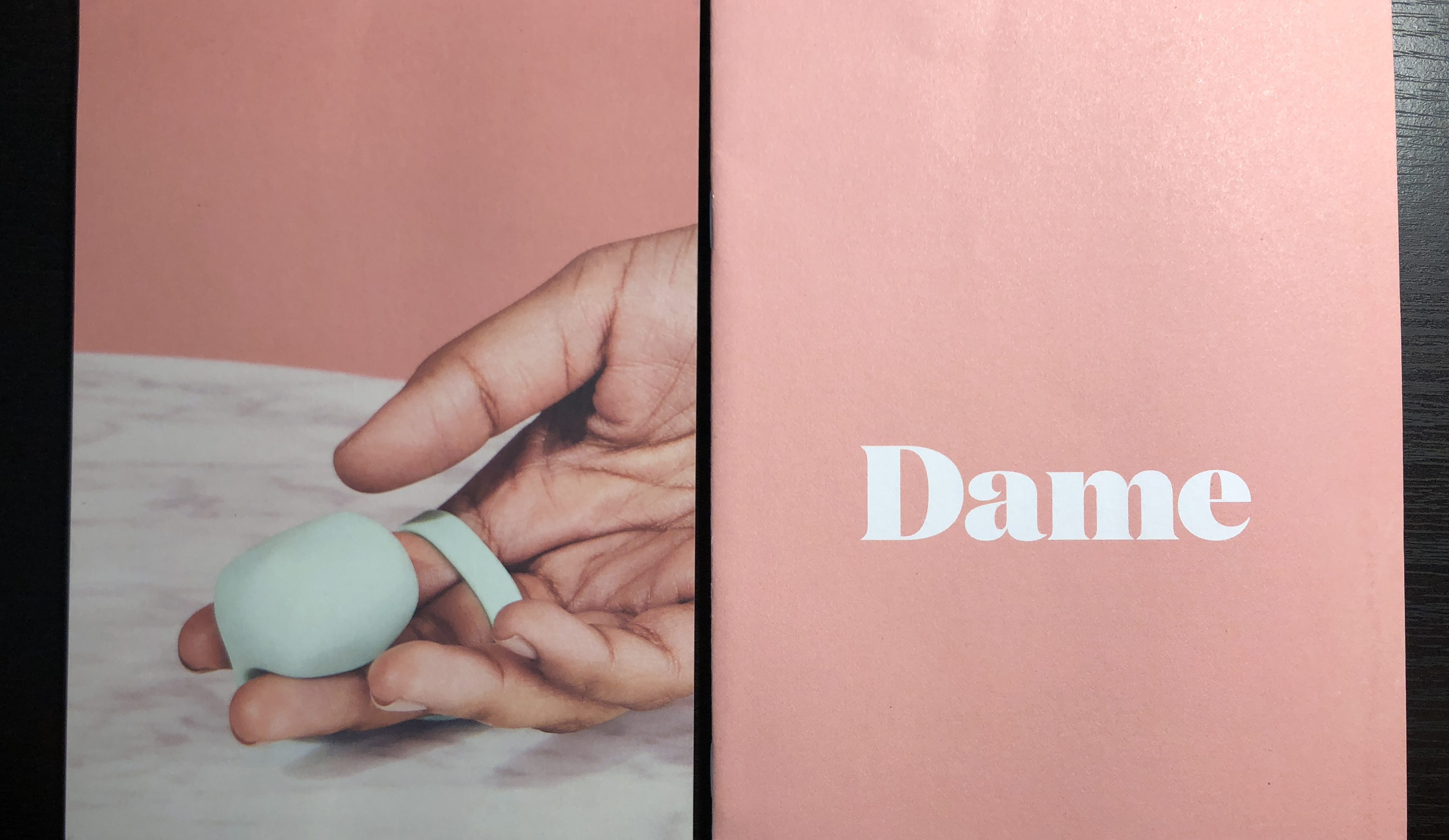 Created by a female engineer and her best friend, these women focused all of their engineering knowledge on utility, simplicity, and ease. Pastel colored, pebble soft vibrators, each tiny detail serving a simple purpose to deliver a singular vibrational frequency, at different settings. A removable finger sling makes stimulation during copulation less fidgety for the men. Removing the sling allows us to move around freely with the pebble rounded gem, adding a lil' somethin' somethin' to a massage or playful teasing.
Creative Conceptions LLC: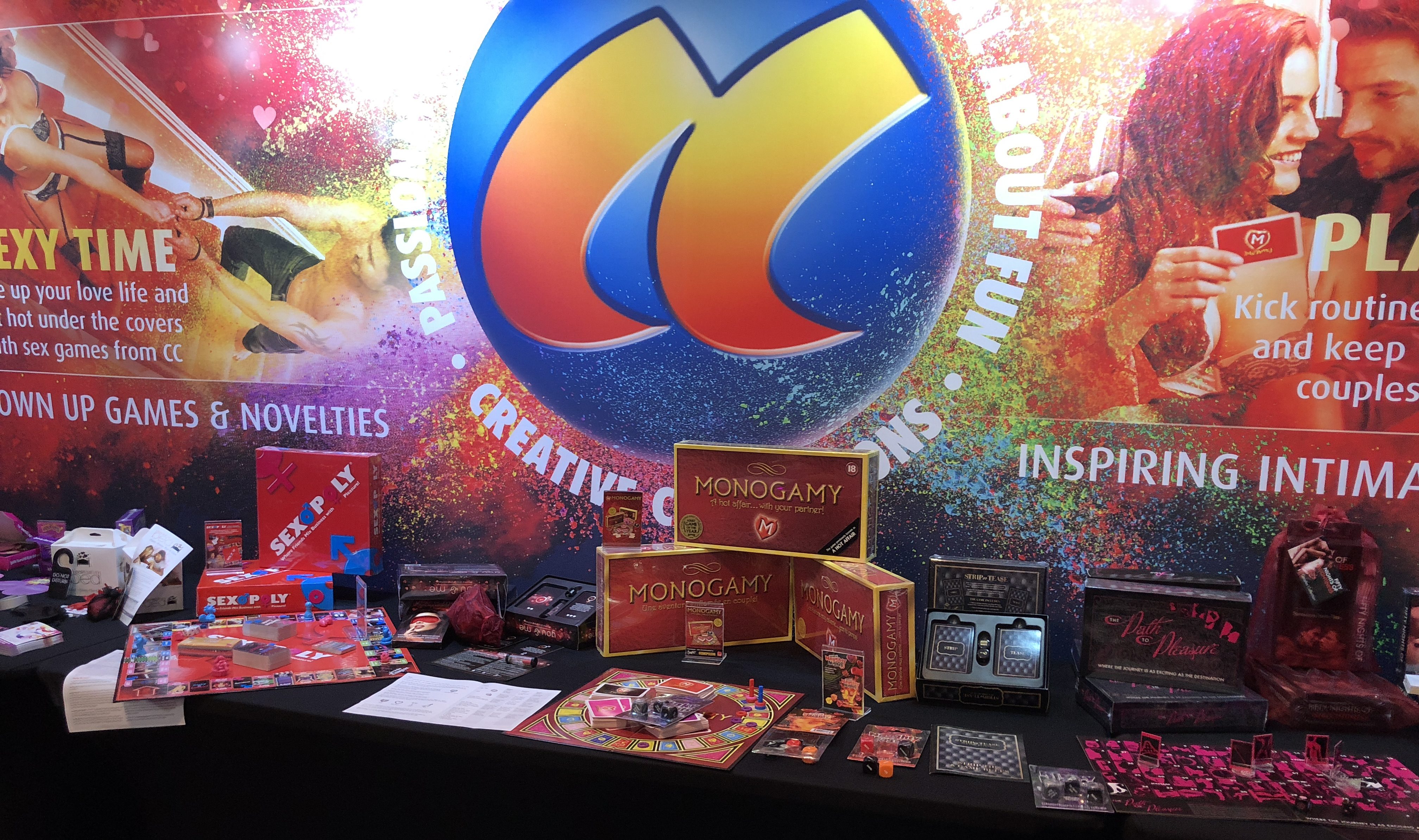 With games like Monogamy (the sexual monopoly), and the predictive pecker – a slim, red, penis-shaped cut out that curls into different shapes to predict what you're good at or need to be engaging in, this company truly brought a lot of fun to the subject of sex, and specifically, fun ways to talk about sex.
JO Lube/DONA
: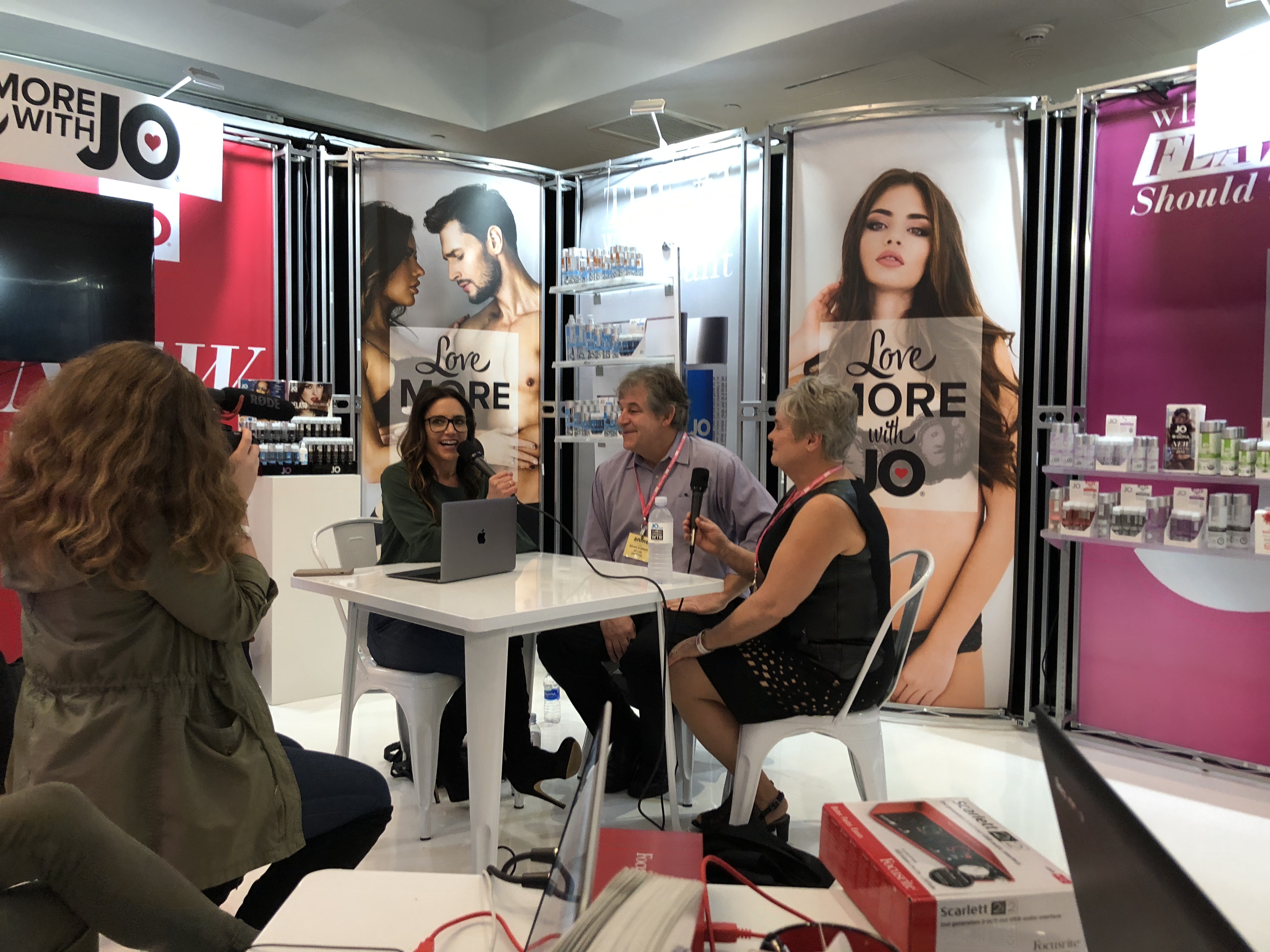 We took a stroll to the System JO booth, which looked like a Lube dreamscape. As if we died and had gone to lube heaven. So beautifully displayed and with their approachable and amazing staff all eager to share their products. Emily recorded a podcast from the spot, and enjoyed the free massages available next to it.
The introduction of DONA bath bombs had me heart-eyed and ready to go to my bathroom.
Pipedream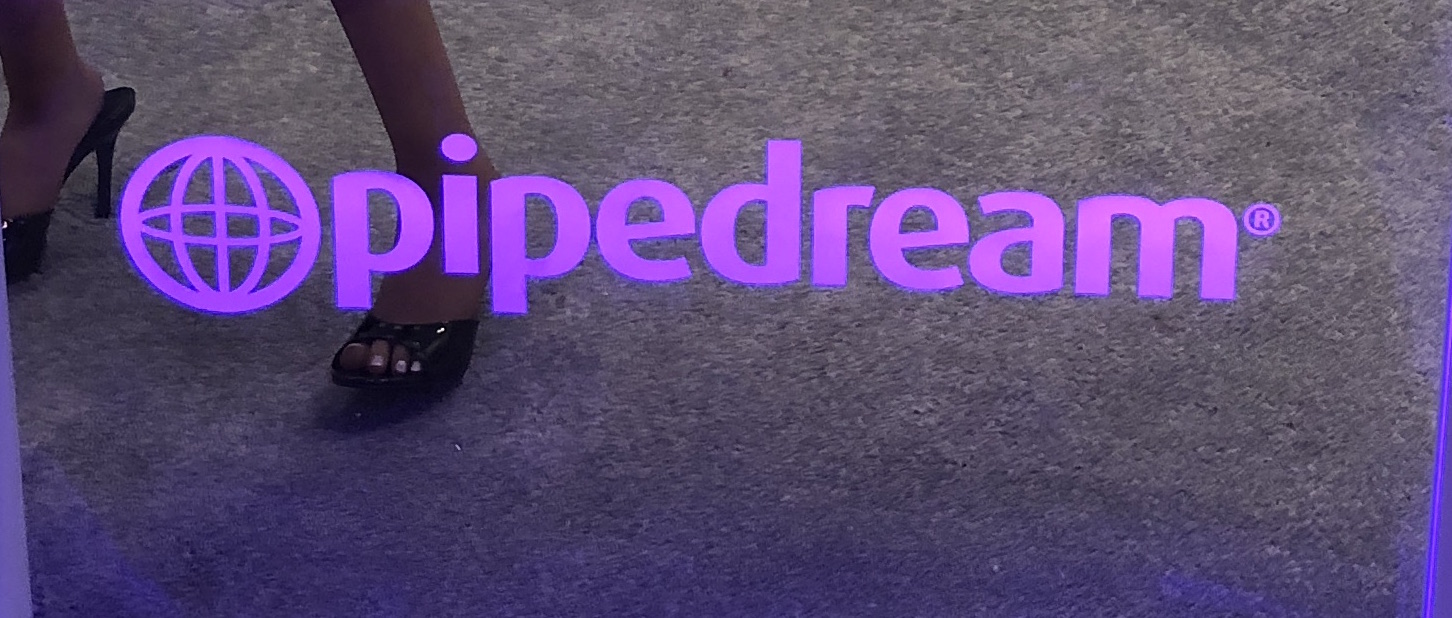 This company made the first uncircumcised dildo that I've ever seen. One that you can lube up to have the foreskin go back and forth, like a normal uncircumcised penis would. Have I mentioned that it also suction cups to practically any surface? I was introduced to this creative addition and walked through the how-to's by the warmest of ladies, as if we were at a British tea tasting and were about to dabble in some crumpets.
***
While this expo is, unfortunately, not open to the public, hopefully the combination of this and the Insta-live videos that Emily shared with you guys offered enough of a glimpse into the land of silicon and sex tech.