Ask Emily: How Do I Confidently Approach a Sexy Stranger?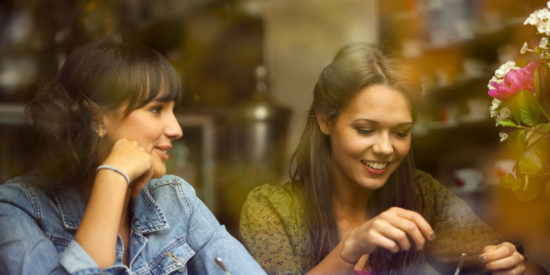 Q: DEAR EMILY,
I am a 23-year-old lesbian, and my dating pool seems more like a puddle. I'm shy, so walking up to a woman in a bar isn't really my thing. Conversely, I'm very feminine and have been told that women can't easily tell that I'm gay, making me unapproachable for women who are too scared to ask.
Last but not least, I've noticed that I'm attracted to older women and find myself being intimidated by them because I'm not very sexually experienced.
Basically, I need suggestions on where to meet women and how to be more confident and put myself out there.
Please help!
Cassie, 23, Kentucky
A: HI CASSIE,
While it might seem like there are a lot of factors working against you when it comes to finding a girlfriend, know that you aren't alone. The dating world—no matter what your sexual preference—can be scary for pretty much anyone. I do, however, have a few ways to conquer your fearfulness:
Get Out
If there are gay bars in your town, make a beeline for those rather than the traditional bar scene. Most of the women will be there to meet other women, and it'll be safe for them to assume that's what you're there to do also.
Bring the Positive Vibes
Putting out an approachable vibe, even if you aren't 100-percent feeling it yet—is the best way to show other women you're single and ready to mingle. Smile and make eye contact from across the room, and be aware of your posture. Do you look closed off and uncomfortable? If so, relax! Non-verbal cues like this are an invitation that lets everyone know it's totally cool to come talk to you.
Face Your Fears
Being shy is totally normal, but don't let fear of rejection keep you from meeting someone potentially awesome. If you see a woman who strikes your fancy, take a deep breath and introduce yourself. Confidence is extremely attractive. Even if it doesn't work out, the more you put yourself out there, the more confident you'll become.
Swipe Right (Or Left)
Dating apps definitely have their pros and cons, but the best thing they have going for them is selection. And, because you'll certainly be approached by potential partners on them, your shyness won't stand in the way of an initial interaction. Once you connect, the apps also offer a great, low-pressure way to practice flirting with potential partners.