Ask Emily: What Sex Toys Will Rock My Girlfriend's World?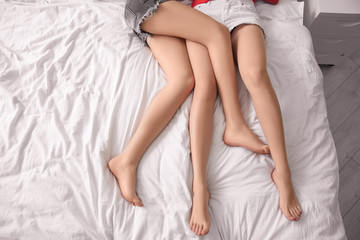 Q: Dear Emily,
I have been having sex with my girlfriend for eight months now, and was a virgin before her. Although she's a lot more experienced than me sexually, she has never been in a same-sex relationship before, and we are figuring everything out together. The sex that we have is amazing, but up until now we've gone solo equipment-wise. We're now looking to bring some toys into the bedroom, and I'm looking for ideas.
You talk about different toys that you enjoy on your show, but it's mostly in reference to masturbation. Do you have any recommendations for a lesbian couple? We both really enjoy external stimulation, but are open to anything! Love the show and thanks for the help!
Elizabeth, 23
A: Dear Elizabeth,
Your question is a great one—and the good news is that you already know what makes the other person feel good. Plus, you can totally play around with different toys to find which ones really do the trick to get your partner to her big "O." Here are a few of my favorite toys that are amazing for both solo and mutual masturbation:
Clitoral vibes: There are so many amazing clit vibes out there, but here's a few I can't get enough of. The first one is the Wish by We-Vibe. This amazing little device works on both the internal and external clitoris, so all 8,000 of your clitoral nerve endings get some love. Another clit vibe I would highly recommend for mutual play is the G-Ring by FT London. This magical little guy literally turns any finger into a vibrator. You can use it anywhere on her body: tease her nipples, use it internally, whatever works for you. The G-Ring is also perfect for exploring each other's erogenous zones to find out where her real hot spots are.
Magic Wand: It's no secret that I absolutely love my Magic Wand, and that's because it's the Cadillac of sex toys. You can use it as a massage piece or as an external stimulator, and you can even purchase toppers for it that allow you to use it as an insertion toy. Not to mention you can get the classic or the rechargeable version—whatever strikes your fancy.