Ba-Da-Ba-Ba-Ba, We're Glovin It!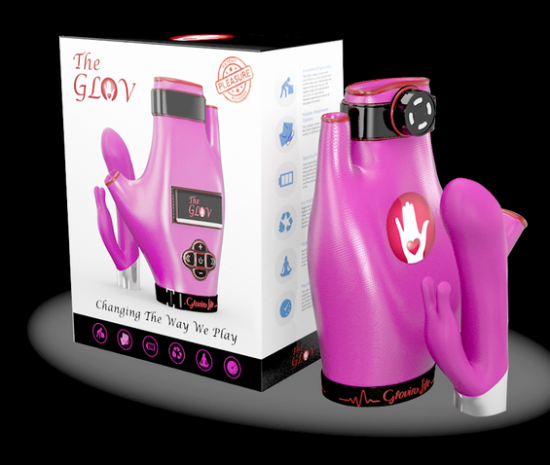 How many times have you heard guys complain about coming down with a case of self-induced carpal tunnel as a side-effect of vigorous masturbation? Maybe it is just because of my line of work, but I hear the sore-hand gripes pretty damn often.. Which is funny seeing as guys have all their fun parts right on the outside.
For women, any type of masturbation involving a sex toy requires a combination of awkward arm angles, contorted wrists and violent hand-jerking movements – 25 minutes later, you're rolling around on your stomach trying to hit that sweet spot without dislocating your shoulder blade, chasing that orgasm with a cramped wrist and a broken spirit. No wonder we've convinced ourselves that we need a man to do it for us!
Guys have recently advanced their ability to self-please with the invention of the Fleshlight, but women are stuck trying to mount their dildos, all in hopes of reaching orgasm before the dreaded dead-arm kicks in. It was this struggle that inspired the team of Glovin Life, LLC to take masturbatory issues into their own hands.
Introducing the Glov, a game-changer for self-lovers, and a kick-ass solution to all women's masturbation woes. According to the product description:
"This unique sex toy starts with a sexy and comfortable glove that goes on the user's "play" hand. A finger bracket over the first three fingers provides a place to connect the desired attachment.. on the inside of the hand. The hand is then positioned palm facing the erogenous zone."
The design is meant to eliminate the need to hold your sex toy at the usual 90 degree angle – Instead, you simply attach the toy to the underside of your fingers, and flex them forward and back to achieve the desired thrusting motion. The sexy Glov comes with multiple function settings, with controls embedded in the back of the glove just like Batman's utility belt.. Except for the fact that it vibrates.
The Glov is silently powerful, body-friendly, shower-friendly, and can be used either alone or with a partner. Future Glovs will include "infinite attachment options", but the first models come with two: One rabbit attachment and one good old-fashioned dildo.
The Glovin Life team is attempting to reinvent the masturbatory wheel, and make masturbation an easier and more pleasurable experience for women everywhere – But they need your help to get their innovative product through the final stages of development! You can contribute to the Glov project through IndieGoGo by pre-ordering your very own Glov for up to 50% off it's planned retail cost. Check out the campaign & get involved to make Glovin Life's dream of "maximum stimulation with minimum effort" and orgasmic reality!
Can't get enough SexWithEmily?
Subscribe on iTunes and never miss your bi-weekly Sex With Emily podcast…