Backdoor Files: The Do's and Don'ts of Anal Sex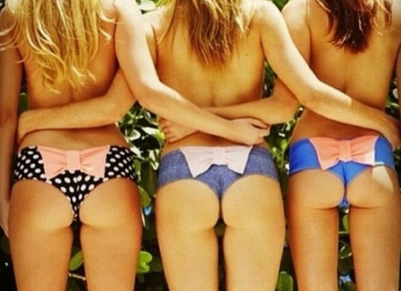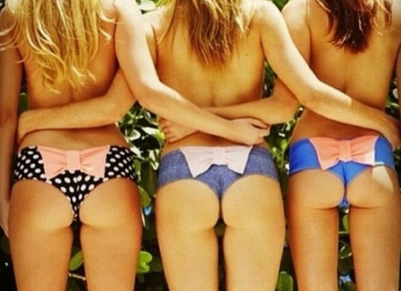 Anal Sex: It has been called the new frontier of sexual exploration, and it just might be. Recent sex surveys show that roughly 1 in 3 people have tried it, suggesting that more women are opening up their backdoors. And yet, say the phrase "anal sex" in a room full of women and watch each one subconsciously tense up.
It's true, anal sex may have gotten a bad rap. We've all heard the horror story from our neighbor's best friend's second cousin about the pain and the mess and all the things that could go wrong. But when done correctly, it can actually be downright enjoyable for both the giver and receiver. Consider it "an acquired taste", like blue cheese or kale – it all depends on the cook, the preparation and your mindset.
Do: Talk it out first
Like any new trick you try in the bedroom, anal sex is something that should be discussed beforehand. Communicate your fears and expectations with your partner, and make sure that you are both on the same page. Trust me, this is one area in which you do NOT want any surprises.
Do: Go In Clean
Many women's fear of anal stems from a fear of the unclean… Yes, I mean physically being unclean. To cleanse both you and your partner of such mental roadblocks, take a nice, steamy shower before your hot backdoor date. Feeling extra frisky? Invite your partner to join you for some squeaky-clean, pre-sex fun.
Don't: Skip the Foreplay
One of the best ways to ease her into anal sex is to make sure she is plenty aroused beforehand! Being one or two orgasms deep helps you relax and loosen up, which in turn helps your rear end to loosen up, thus lessening the likelihood of a difficult entry. For a guaranteed orgasm for her every time, try the Magic Wand Rechargeable. Its powerful vibrations and varied settings make it extremely easy for her to reach orgasm and thus be fully prepared (and excited) for the fun to come next. The best thing about the Magic Wand? You won't have to stop after just one O'! Encourage your partner to double up on the regular dose of foreplay, and keep it coming! You can find and order your Magic Wand through this link.
Don't: Forget the Lube
One of the most important elements lies in the lube. If you're about to start, looking down at the lake of lubrication in your hand thinking "My God, that's a lot of lube..", guess what? Use more. Unlike lady parts, the anal canal does not naturally produce any sort of lubricant to help ease penetration.The more lube you use, the more comfortable and enjoyable the experience will be.
Side note: Opt for a condom-safe, water-based lube, and don't be afraid to reapply frequently. Say it with me: More lube, better sex. More lube, better sex. One to definitely try is called Sliquid Sassy Lube and is perfectly suited for anal sex. Aptly nicknamed the "booty formula", it is made from all natural ingredients and is especially thick and long-lasting! In addition, it's scent and flavor-free so your worries of sensitive skin or irritation can rest easy.
Do: Take It Slow
Many guys think the best way to do it is to just dive in. However, no matter how much lube you use, the backdoor is not a water slide. Anal sex should be more like getting into a really hot jacuzzi. First you test the waters during foreplay, and gently rub around the opening with your finger, then you can eventually experiment by actually inserting one finger, then maybe two (and don't forget the lube!) Then, and only then, should your penis come poking around.
Remember, there is no rush. Penetration should happen at a rate she is comfortable with. Start with just the tip, and work your way up the shaft.
Another way to help ease her into the unfamiliar territory of anal penetration is to combine it with what she is familiar with: clitoral stimulation. The involvement of a vibrating toy she is used to orgasming with can go a really long way. The We-Vibe Touch is a perfect example of a toy that can help her stay focused on her pleasure. With its powerful rumble, this vibrator is a sure way to keep her turned on and help her to enjoy the experience at maximum potential. The Touch can also be found here .
Do: Relax & Breathe
The only way for a woman to truly enjoy anal sex is to relax. Your backdoor contains muscles that tense up when you get tense. Don't forget to breathe! In those first few moments of penetration, the pressure tends to cause women to instinctively hold their breath.  This results in the immediate tightening of those muscles, which will only lead to pain. Take deep, even breaths and focus on relaxing your entire body and release all tension in your behind. It may feel like you have to poop, but you won't. Just go with it.
Do: Assume The RIGHT Position
When it comes to picking your sexual positions, you may naturally gravitate toward regular missionary with him on top – Familiar, easy, comfortable.. Right? Wrong. Here are three optimal positions for first time rear exploration:
Doggie style allows your man easy entry, but puts him in full control, which might not be the best for your first time.
Girl-on-top is actually the best position for anal, because it allows you control speed and depth of penetration. This is extremely important, especially for backdoor newbies.
Now not all newbies are going to feel confident enough to hop right on the first time, so another great pick for backdoor beginners is the spooning position. This gives you shared control of your movements, and adds an extra touch of intimacy, which may help you relax as well.
Do: Be Vocal
Throughout this entire experience, it is your job to pay attention to what you are feeling, and communicate this to your partner… If something feels uncomfortable or painful, it's up to you to let him know.
Before, during and after anal sex, consistently check in with your partner to let him know what you need from him. Otherwise, he will be having the time of life, and will have no idea that you are not.
---
Want more bootylicious pointers? Join me at my next Hustler Hollywood workshop on August 25, 2015 from 8-10 pm! I'll be sharing tips & tricks to make backdoor play a fun and pleasurable experience for all. Save your seat NOW by sending an email to HHRSVP@LFP.com or RSVP on Facebook!
---
Article originally posted in Glamour.com: 8 Crucial Do's & Don'ts of Anal Sex