Best Valentine's Day Ever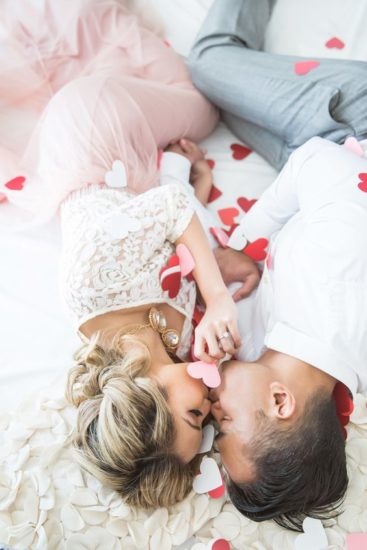 'What makes a Valentine's Day special?
I don't know about all of you, but this is a question we at Sex With Emily have spent A LOT of time pondering. You see, every time January rolls around, we go straight from "Happy New Year" into full-on cupid mode. Seriously, you should see Jamie in the little wings—It's adorable.
My point (and I do have one) is that we make it our business to know as much as we can about dating, relationships, sex and love. So it goes without saying that the renowned "Day of Love" falls into our jurisdiction. If you want to make your Valentine feel loved, adored or, at the very least, satisfied sexually, we're here to help! Need a gift? We've got your top picks! Not sure whether to go out or stay in? We've got the recipes you need to get things cooking. No date this year? No problem! We have plenty of tips to help you love yourself, as well as places to go to find a casual romance.
This year, we decided to take our collective expertise to the next level—we're talking BEST VALENTINE'S DAY EVER. The only problem was, we weren't sure where to start. What takes a V-Day from "good" to the best you've ever had? Is it a stellar gift? A romantic getaway? Rose petals, candles and a bottle of bubbly? Donuts spelling out your name?
Clearly it's more than just fascination to us. It's our responsibility to know what it takes to make a Valentine's Day unforgettable, but we felt that we needed a little inspiration… From you! So we asked you to share your Best Valentine's Day EVER stories, in the hopes that your experiences would shed some light on the matter. And boy, did they!
Some of the stories were sweet, some were spicy and some were so hot that I'm pretty sure I saw Emily get a little flushed. A few of you (you know who you are) should consider getting into erotic fiction, because you know how to tell a scintillating sex story. Some of you shared times when you tried something new and it didn't work out (usually anal), others shared the little moments that added up to something amazing. Many of you shared your chosen sex locations and positions, which we very much appreciated.
All in all, the takeaway was that an amazing Valentine's Day comes down to two things: the thought that went into it and the person you spent it with. And we think that's pretty damn meaningful.
So while one of the lucky participants will win a Magic Wand Rechargeable for their story, we wanted to share a few of the many entries that won our hearts…
"When I started dating my now fiancée 6 years ago he hadn't had much sexual experience. On our first Valentine's Day together I went to a sex shop and filled a "treasure chest" with various toys and tidbits. We spent Valentine's night exploring and playing with new things in the chest.

I really enjoyed that night because he got to explore new sexual experiences with me and we learned a lot about what we like and don't like as a couple. Six years later and our sex has evolved into something amazing!"
"My wife (girlfriend at the time) and I lived 3 1/2 hours apart and didn't get to see each other often. On Valentine's Day, she was coming over to my place for a long weekend and I was making dinner. She showed up to my place wearing nothing but her peacoat. Needless to say, dinner had to be put on hold for a little while! "
"My favorite Valentine's Day was last year when my partner and I had a surprise trip to Chicago, my favorite city to visit! After a night of drinks and cab rides we came back to our hotel which was one of the tallest in the Windy City with a room on the top floor with windows surrounding us. It was my fantasy to have sex in the window of a tall building of a city, and we finally got to live that fantasy! It was mind blowing and sexy thinking people below could potentially see us. Favorite hottest memory.

Also, we found out two months later we conceived a beautiful miracle baby boy. Valentine's Day magic!"
"My best Valentine's day was 5 years ago with my boyfriend. We were newly dating at the time and neither of us had been big on celebrating Valentine's Day. He gave me a bouquet of pink roses, we had some amazing pre-dinner sex, went out to a local place for a bite, then spent the rest of the night just being together.
The best part, though, was that my boyfriend made me a personalized mix CD of songs that reminded him of me. Included was a written list of every song and the rationale for why he chose it (along with a little love note at the bottom). It was the sweetest and most thoughtful gift I'd received, and it's something I still have and listen to when the occasion rises. And we're still together and very much in love today."
"My wife and I got married in June 2012. Two months into our marriage, I moved to another state for work. Alone.We made plans for Valentine's weekend to meet in Santa Fe, NM…not far from where I was working. We browsed in amazing shops, visited beautiful art galleries, and had some memorable Thai food.

Yes we had some great sex that weekend, but my favorite part of the weekend was our early morning conversation as I was driving my wife to the airport. We were talking about the first time we each realized we were in love. I was surprised when I figured it out…and my wife said, "Whoa, that was WAY before I was even thinking about it!" She told me when she knew she was in love with me, and we both felt such a deep sense of love and intimacy."
"My perfect Valentine's Day may have been simple, but it was a well-received and easily repeatable feat. We fed and put the kids to bed, then I made us a dinner (steak au poivre, pumpkin soufflé and asparagus)… The twist was that I made only one plate, sat it down in between us, slipped off my tie and blindfolded my wife. Then I proceeded to feed the two of us dinner, with her blindfolded the whole time. Taking away sight really does change how you experience your environment, no matter what's on the menu."
"This guy I was seeing and I went to breakfast with some of our friends. I was wearing a cute winter coat that went down to my knees, but when I picked him up, I gave him a peek at what was inside: thigh-high stockings, mini skirt, no panties and a tight button shirt. He was dying. At the restaurant, he could not stop staring at me, but I told him he couldn't touch me until we got back to the house.

The second we got inside, he flipped me over his sofa and banged away. Later that night, he had candles going for me; he blindfolded me and glided ice cubes over my body, sucked hot chocolate fudge from my breasts, it was all very romantic. Was the best Valentines ever!"
"My favourite ever Valentine's day was spent with my husband. We opened up our french cookbook and picked out recipes for dinner—potatoes au gratin, Coq au vin, greens with pears and goat cheese, and then delicious grand marnier soufflés. Of COURSE we had to have a couple bottle of La Grande Dame.
Did I mention we cooked in nothing but aprons? I wore a little lingerie, too, in candy apple red. Between courses, we made love on the counter…on the sofa… Wherever the mood struck. It was the best V-day ever. And the soufflé wasn't bad, either."