Beyond the Binary: A Look into Genderfluidity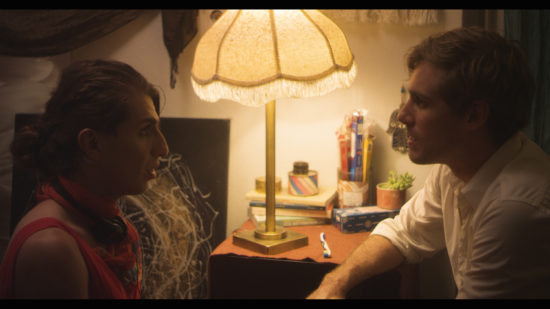 Here at Sex With Emily, our goal is to create a sex positive environment where no matter how you love or who you love, there's a place for you to feel free and happy.

That's why we are so excited to support this up and coming film "L: A Story of Genderfluidity" because it openly discusses what it means to be non-binary, and the importance of being an ally.  
Producer Max Landwirth and Story Consultant Addison Rose Vincent share what their film is about, the message, and why this story needs to be told.  
For the past 3 years, I, a gay, Jewish film producer in Los Angeles, have been developing a film that delves into an often overlooked and misunderstood community: gender non-binary people.
"L: A Story of Genderfluidity," tells the story of Will, a clueless marketing strategist in San Francisco who, after his longtime girlfriend leaves him, forms an unlikely friendship with his new roommate who happens to be genderfluid. The two then embark on a series of adventures through which they learn, grow, and develop mutual respect for one another. When things get complicated for L, Will is put to the test to see just how strong of a friend and ally he really is.
Our film is poised to be the first feature film to have a gender non-binary character played by a gender non-binary actor in a leading role. Authenticity is crucial for our film because this is one of the first films (if not the FIRST film) to openly discuss genderfluidity. It is super important that we get it right. That's why I surrounded myself with a team of consultants and advisors who they themselves identify as trans (both binary and nonbinary)." The "L" team is working hard to ensure that our film is not only entertaining, but educational for general audiences to better understand what "genderfluid" means, how to interact with non-binary people, and what allyship really looks like.
"Non-binary" is an umbrella term for identities like "genderfluid," "genderqueer" and "gender creative" that refer to people whose gender identities shift from time to time, people who each have multiple genders, and people with genders that are somewhere in between or beyond the binary of "man" and "woman." Some people state that non-binary identities fall under the same category as transgender identities since both groups do not identify with the genders they were assigned at birth, yet others argue that they face fairly different issues, obstacles, and experiences. Non-binary people may be new to mainstream media but have existed as long as any other gender. In fact, "enbies" (short for "non-binary people" and pronounced as "NBs") are seen in cultures and civilizations around the world, such as with Two Spirit people in Indigenous America, Hijras in India, and Mahu in Hawaii.
"[The film] is key to expressing the concept of genderfuidity to the general public," says Ann Thomas, founder of Transgender Talent. "This story has amazing credibility and many fairly common threads, and this is a great way to share it, covering aspects of many people's experiences. I even share in some of them. It especially has the potential of winning the audience over to loving L as a person."
"L" is being developed at an interesting time in an increasingly hostile political landscape, yet our team is certain that our film will serve as a reminder for the power of compassion: if we can learn how to embrace what makes each and every one of us unique, I am confident that we, as human beings, can foster a world that is more accepting of diversity. This film demonstrates that people are so much more than the labels society gives them. The truth is that people are just people – regardless of their race, ethnicity, orientation, gender expression, beliefs, etc."
To learn more about "L: A Story of Genderfluidity" and to make a pledge to our Kickstarter campaign, click on the following link: www.LTheMovie.com
Max Landwirth – Max is the founder of Landwirth Legacy Productions, LLC – an independent production company engaged in the creation of socially conscious media – entertaining and educational content that seeks to enrich, educate, and inspire audiences. Since the company's inception, it has produced and otherwise facilitated two feature films, a TV pilot, several award-winning shorts, and a host of commercials and PSAs for major brands. Max graduated from the prestigious Chapman University Film School with a degree in film production and screen acting. He has been developing the story and production of L for several years.
Addison Rose Vincent – Addison Rose Vincent, "Addie" for short, graduated Chapman University with a degree in Peace & Conflict Studies. Addie is well traveled, and studied at the prestigious University of Oxford in England. Since coming out as trans, Addie has been motivated to create a more inclusive and equitable environment for their community, using social network sites and writing an occasional blog for HuffPost Gay Voices. At Chapman, Addie broke boundaries as the first trans participant in the Delta Queen pageant. Addie received the 2014 Courage Award and the 2015 MLK Outstanding Senior Award for campus activism and community-building techniques.