Call me on Loveline tonight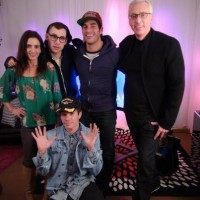 I'm excited to announce that I'm a co-host of the Loveline radio show Thursday nights with Dr. Drew. Make sure to listen from 10pm -12am on your radio (check your local listings) or watch and listen online at LovelineShow.com. 
I remember listening to Loveline when I was a teenager, completely captivated by this strange world of sex awaiting me. It would be bizarre to tell my 15-year-old self that someday I'd be on Loveline giving advice about threesomes and male grooming. Life never fails to surprise, and I couldn't be more excited about this opportunity.
I hope you all listen on Thursday night and perhaps even call in with your most burning relationship or sex question. The number is: 1-800-LOVE-191.