Who You Callin' A Sexpot? By Pam Costa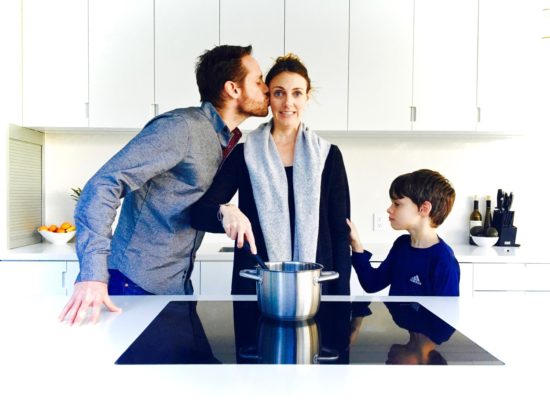 Seeing someone talk so openly about sex and their intimate lives leads you to believe they have it all figured out. All their problems have been solved, and they're done asking questions.

In reality, not even these incredibly open people will reach a point of  having all the answers. But talking about your journey can help others see that they're not alone– and neither are you!
Sex Coach Pam Costa shares how even those that seem to have it altogether still have room to grow in her Down to There blog…
I recently had some girlfriends over for brunch. I hadn't seen one of them in a long time and while we were eating quiche, she looked up and said "So, how did you become such a sexpot?" I was so surprised that I choked on my mimosa.
After I could finally breathe again and we kept talking, I realized that some people watching my journey believe that I have it all figured out. That I used to struggle with sexual desire, but saw a sex and relationship coach and now feel sexy all the time and want sex all the time. God bless America I wish that were true, but it is simply not.
Okay, okay, I know that I write a blog about sex and that I post relatively provocative pictures of myself in those blogs. But let me be crystal clear… this is me, in my sweatshirt, with my hair up in a bun, with my actual husband and my actual son, in my actual kitchen… every night. In case you are not getting the full effect from the still photo, check it out in gif form.
I share stories about my sexual struggles and successes so that others with similar struggles know that they are not alone and that there is hope. I share photos of myself because I want readers to know this isn't a made up story with stock photography, but real struggles by a real person who, every now and then, can figure it out.
Unless you are some magical sex guru, I am just like you. I don't have it all figured out, and on top of that, I don't think it's realistic to ever have it all figured out.
So why bother? I get that it's hard when things get tense and crunchy or habitual and stale with our partners to even bring up the subject of sexuality, much less propose to do something to change the patterns that we've settled into. Hell, I buried my head in the sand for two decades, having average sex on a much less frequent basis than my partner would have liked.
But life was not satisfying. When I learned about the basic human needs in elementary school, I was taught about food, water and shelter from Maslow's hierarchy. Have you looked at this famous hierarchy recently? It lists sex as a fundamental physiological need. In fact, it's the only item to show up on multiple levels of the hierarchy! Sexual health is important to our survival and happiness.
I do not have it all figured out. But I do pay more attention to my sexuality, take more risks in learning about my sexuality and put more effort into sharing my sexuality with my partner than I used to. And while there is always more to improve, the incremental improvements have added up to a significantly more fulfilling sex life.
Let me give you an example of what this looks like in real-time, because I want to illustrate the necessity of the awkward conversations and trial and error part of the process. Over the last two weeks, my husband and I have been talking a lot about our Hottest Sexual Movies. Turns out he has a fantasy around taking control, and fortunately enough, being controlled is a fantasy that also appeals to me.
If we both want the same thing, then it's all coming up roses! Right? Not exactly. The sticking point at the moment is that we're both super independent people which means that he doesn't want feedback when he is in control, and I have a hard time ceding control to him. Whomp whomp. So we struggle. We have had long discussions the past three nights that ended with "I'm done talking about this for now."
I know we'll get through it. It will take more conversation, and probably quite a bit of practice… but at the end of this, we will have learned more about each other and likely had some adventurous and fulfilling sex.
So, please, don't let the take away from my blog be that I'm horny all the time and master of all things sex. Instead, let my struggles offer inspiration for being compassionate towards yourself, wherever you are at on your own sexual journey. Be vulnerable with your partner about what really turns you on, and courageous enough to struggle together to go after it.
To learn more about Pam's journey, try out some of her sexual exercises or even sign up for one-on-one coaching, you can visit her website DownToThere.com. 
ABOUT PAM
After a decade and a half at Apple and Facebook, Pam left her career in high tech to found Down To There to share her real-life stories of challenges and successes around sexuality in her marriage. She believes that speaking openly about sex can help individuals and couples find new ways to renew and deepen desire and intimacy in their own relationships. She also believes in the healing power of sharing and recently launched Down To There Circles, free, peer-led discussion groups, to help friends support and inspire each other around sex and relationships.