Calling All Men!!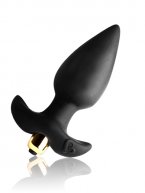 Emily is at the Adult Novelty Manufacturers Expo with sex toy buyer Coyote Days. Today the two are taking a look at the Black Pearl from Vibratex available at Good Vibrations.
The Black Pearl offers gentle, yet powerful vibration through its slender shaft to its rounded pearl, placing tantalizing stimulation just where it belongs. And the bowed handle is perfect for nudging the perineum and offering leverage for those who want more.
What is the Prostate?
It's a rigid mound of flesh inside the anal canal that's about the size of a small walnut. It is located roughly two inches in, hugging the urethra and tucked under the bladder. The prostate is responsible for making up some of the ingredients in a man's ejaculate, which is why it is such an experience to have it stimulated.
The Prostate Orgasm
The prostate is so responsive that some men can achieve orgasm based on prostate stimulation alone!
Does It Make Me Gay?
No, delving into prostate play only means you are someone who wished to expand their sexual repertoire and achieve intense orgasm.
How Do I Stimulate My Prostate?
Start with clean trimmed nails and keep any supplies nearby for easy access. (lube, towel)
Use the restroom at least 20 mins beforehand
The best place to start is the shower where you are warm and wet
Position yourself. Lying on your back works well, as it gives the easiest access.
Massaging his perineum is a good way to begin and help him relax
Now, you can insert one well lubed finger into the anal opening (gloves are a great option to prevent any nail snags and make cleanup easier) and search gently for the rough rigid patch that is the prostate.

It's roughly two inches in, hugging the urethra and tucked under the bladder
Other ways to Stimulate the Prostate
Male anal play can be incorporated into your play in a variety of ways.
A finger or toy can be inserted during oral sex, or applying gentle massage to the perineum during hand jobs.
Prostate Toys
Anal Beads                                                                      Anal Probes
Special discounts for listeners of Sex With Emily:
Use coupon code EMILY for 20% off at Good Vibrations