Carnal Confessions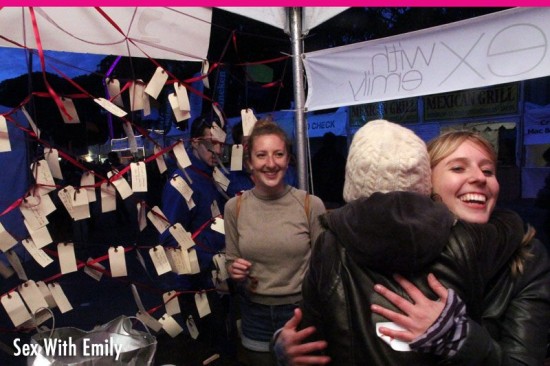 In Catholicism, the Sacrament of Penance is a practice of the Church in which people confess their sins and have them absolved by the priest.  For the Catholic Church, the intent of this sacrament is to provide healing for the soul as well as to regain the grace of God, lost by sin.
We did something a little bit different in our confessional at Treasure Island Music Festival…
Although people were mostly anonymous in writing their confessions and it was intended to be a cathartic experience, we were celebrating and re-appropriating "sins" and "sexual deviations" and displaying them for the world to see.
Here are some of our favorites…
-I once gave my boyfriend a handjob in the back of a cab with my family member in the front seat.
-I cut a hole in a cantaloupe and heated it up in the microwave and it ended up burning my penis so bad the skin peeled off.
-I confess to blowing a male-to-female tranny in a '78 Datsun LUV behind the Disney store in '98.
-The best sex I ever had was with a stranger.
-At 28, after many years, and my fair share of boys, I finally had my first one-night stand last night. Met him here. Nice.
-I f***ed a frat boy with a strap-on I stole from my ex-boyfriend.
-Yesterday I gave my boyfriend a blowjob in a handicapped port-a-potty. So much for watching Chromeo.
-A blow-job in my in car with a woman who later got elected as superior court judge in Orange County.
-I want to F another guy while my husband watches.
-I love my Form 6 (Jimmyjane)
Oh and we weren't just at Treasure Island to confess our "sins."  We also gave away 3 high-end designer Jimmyjane vibrators (Form 2, Form 3, and Form 6) to lucky Treasure Island Music Festival attendees.