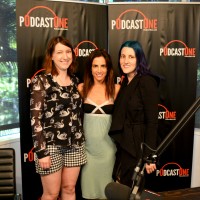 Emily and Menace are back in the studio and cover a lot of ground from body image to sexuality to learning to love the blow job, this Podcast is sure to educate and entertain you.
The two catch up on recent developments, including Menace's visit to the Taco Bell mecca and the blessed return of Emily's Facebook page. Wondering what caused our three week Facebook hiatus? Emily explains her struggle with social media censorship.
Also in the studio are Cyan and Nadya of Zivity.com, here to talk erotica, photography and body positivity, among other things. Zivity is an erotic photography website for real people, where models, photographers and fans alike can enjoy and appreciate the art they love.
Zivity features beautiful photography with a  wide range of fantasies and scenarios. Want to know the most popular themes? The ladies of Zivity dish on the hottest sets, costumes and fantasies. And speaking of costumes- Emily and Menace's Hamburglar debate comes back into play! Would Emily "Hamburglar-Suit Up" for her dream man? The answer is still… No!
Podcast: Play in new window | Download
Read More

»
Posted by
Lauren
| 0

comments