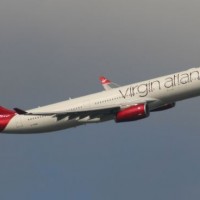 A 'drunken' British woman was questioned by police in the US after reportedly having sex with a man in the toilets of an airliner.
Cabin crew had to intervene after the woman, said to be in her 20s and flying with her parents, disappeared into the toilets with a man sitting next to her.
After a row broke out with air stewards following the incident on a Virgin Atlantic flight, the woman was taken away for questioning by US authorities.
Another passenger told The Sun: 'She started getting heated with the guy next to her.
'They went into the bathroom and people could hear loud noises. The cabin crew forced to door open, then she really kicked off.'