Celebrating 10 Years of Sex With Emily: Live at the Improv!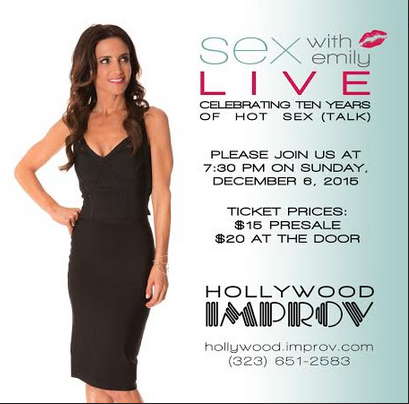 When I started the Sex With Emily podcast in 2005 at my living room table, I wasn't thinking that it'd actually become my career. I figured it was a pit stop on the way to figuring out my next move.
It was the first year of podcasting, and it seemed like an interesting medium even though no one knew what it was (and that hasn't changed much) but I thought I'd see what it was all about. If I could interview people about my favorite topic all day long and change the world, why not?
I had always been fascinated by relationships and sex. What makes a relationship last? What constitutes amazing sex? Is it possible to have both and if that ever happens, will it last?
That was 10 years ago, which I can't quite believe. Since then, I've recorded thousands of hours of podcasts, interviewed hundreds of people, read every book I could find about sex and relationships, and even earned my doctorate in Human Sexuality.
So now it's time to celebrate 10 years of Sex With Emily with my first ever live show, and we're going all out!
Of course Menace and Anderson will be on hand, as well as Dr. Drew Pinsky, who I'm lucky to guest co-host the Loveline radio show with each week. Together we'll be answering your sex and relationship questions live, and treating you to plenty of laughs and fond memories along the way.
We've got a lot of ground to cover… What has changed in the past 10 years when it comes to dating and sex?  Hint: a decade ago, people would rather admit to kicking small animals than dating online, and not one person asked me why so many women wanted to be choked (thank you porn!)
We'll have clips from the first Sex With Emily podcasts, and many of the highlights in between. Plus I'll fill in the blanks to your most pressing questions, like:
Why haven't I taken Menace up on his bet to role play as the Hamburglar?
Did my mom really admit to making a sex tape?
What really happened at my first swinger party?
But it doesn't stop there — I also need to hear from you! What were your favorite moments? Who were the most memorable guests or best segments? And finally, what's the one thing you've learned by listening to the show? Send your questions and responses to feedback@sexwithemily.com!
I can't wait to celebrate with all of you! We'll have a few drinks, snacks on us, and you can finally buy that Sex With Emily t-shirt I've been talking about all these years.
But most of all, I can't wait to meet all my loyal listeners and supporters for a night of sex talk ….
Now, let's talk facts:
Sunday, December 6, 2015
Location: The Hollywood Improv

8162 Melrose Ave Los Angeles, CA 90028 (323) 651-2583

Doors open at 7pm, and the show starts at 7:30 pm
Tickets are $15 pre-sale (and you can get those here! ) and $20 at the door.
We will be supplying snacks and appetizers, and there will be a 2 drink minimum in place.
I can't wait to see you there!