Click for Love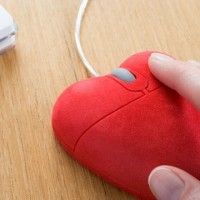 Searching for love in all the right places can sometimes be much more depressing and infuriating than we would like. Whether the stars align, destiny unfolds, or we wake up to a cute text message from that special someone, there's nothing us single humans crave more than a little romance…Perhaps it stems from the fact that we're bred to reproduce (although this theory doesn't exactly fit the gay/lesbian agenda), or as singular organisms we yearn for companionship and love. But finding 'Mr.' or 'Mrs. Right' doesn't necessarily have to be so complex and bewildering. In fact, finding love is now only a click away! Don't get turned off by the idea of online dating. When we judge certain things without trying them out, we limit ourselves. Social groups, bars, and book clubs all offer potential dating possibilities but they might not find you a suitable mate. So why not give the Internet a shot? You've got nothing to lose!
OkCupid is a free-to-use online dating service for all ages, demographics, and sexual orientations. Each user is asked a variety of questions related to personal and social preferences that will later help the website find others with similar interests.  Eliminating those who do not share your common beliefs or passions, OkCupid filters through thousands of users to find your perfect match — but not without giving you the final say!
Also free of charge is Plenty of Fish (POF), an online dating pool that holds countless specimens waiting to be lured into your love life. Measuring chemistry in self-confidence, family orientation, self-control, social dependency/openness, and easygoingness, POF offers infinite possibilities for finding the right catch. Feel free to toss any back in that you don't find suitable.
Maybe you crave a little more diversity (and credibility) from your online dates. If free-to-use sites seem a bit shady or too-good-to-be-true, perhaps a paid online account is the solution. The main difference between free and paid online dating sites appears within the general mass of online users; having to pay probably means having to be employed (we can only hope). Match.com gives you a bunch of other options when searching for an ideal mate, including a much broader selection of possible dating specimens than other paid sites. Because of the larger amount of users, you may have to weed through some 'questionable' candidates before you find your match. This could include going on some awkward dates, but hopefully you can get a few laughs — and a good meal– out of them!
Now that you have a better idea of which website(s) you want to use on your online quest for romance, start  to flesh out your ideal profile. Different sites offer a variety of profile topics to be discussed, but it doesn't hurt to be upfront and honest about your interests. Concise, clever, and articulate thoughts go a long way to intrigue potential suitors. Leave the back story and somber tales of woe for later dates (literally). Having a computer screen between you and your ideal candidate can give you the time to really unearth what it is you specifically want out of a relationship. Don't hold yourself back from taking a risk and sending a message to someone of interest — isn't romance all about taking risks?