Diva Night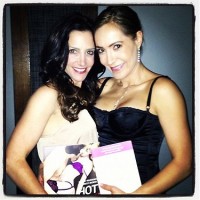 It wasn't a typical Tuesday as San Franciscans traded in their North Face gear for  cocktail dresses, pocket squares and heels to celebrate Emily Morse and Amy Laurent, co-stars from Miss Advised, book signing at Swig.  Amy signed copies of 8 Weeks to Everlasting: A Step-By-Step Guide to Getting  (and Keeping!) the Guy You Want and Emily signed copies of Hot Sex: Over 200 Things You Can Try Tonight.  We can try a lot.
Beforehand, I straightened the hair, sprinkled on diva dust, and added Body Boudoir Body Dew to the gams… a body oil miracle- making the skin silkier, tanner, and sexier.  Literally releasing pheromones.  Beyonce watch out.
The fireplace was lit for the eve in case the scantily dressed needed warmth; but we were already pretty sizzling…
The bartenders crafted specialty drinks— Emily's Hot Passionate Sex Screwdriver and Amy's 8 Weeks to Everlasting Martini,
while, fans, sexy people, and sex experts mingled.  Giveaways from Masque and Jimmyjane added a provocative twist.
As I perched myself on a barstool, about to order a third Hot Passionate Sex, a Swig regular struck up a conversation.  Well- traveled, attractive, and charming he commented that the this night was different from others in terms of the multitude of attractive woman present.  He nonchalantly purchased my drink, which definitely gets the Huntress seal of approval.
It is only so appropriate that at the end of the eve, a gaggle of girls were picked up and taken salsa dancing…