Dressing Down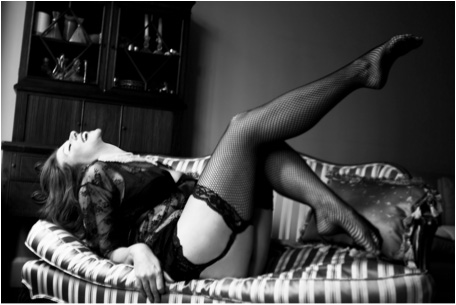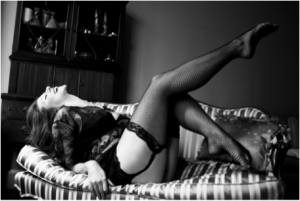 It's the iconic bedroom movie scene: sexual tensions are rising, but before things get hot and heavy, the beautiful dame has to go "freshen up." Everyone knows she's going to come back in a super hot outfit that will make the unsuspecting hunk go crazy! But what we don't often stop to think about is how the garter-wearing heroine might be feeling underneath her silk and lace attire… My bet is, pretty freaking sexy. 
Despite what you may think, lingerie isn't just for men. Yes, it provides them with both visual and sexual pleasure, but it also makes us ladies feel sexier and empowered. Wearing lingerie can be an easy way to spice up things in the bedroom, but even if you're single, it can be a great self-esteem booster to help you feel good about yourself, and proud of what you've got.
I know that not all of us feel like we can pull off sexy negligee. I mean, the supermodels in magazines and actresses in movies look fantastic in it, but it's their job to make tiny swatches of lace and silk look good. I'll let you in on a little secret though: The sexiest part about lingerie is the confidence you wear behind it. Don't let the professionals make you feel like you can't look hot as hell too!
Dressing up for Your Beau:
Ladies, we're all culprits of it: We get comfortable with someone, and we start to worry less about always looking our best, because we know that they love us for who we are. It's hard to remember, but there were probably times you were afraid to let them see you without makeup, and god forbid if they saw you in your 'laundry day' outfit. Now, you go to bed with a t-shirt and messy bun like it's nobody's business. While it's refreshing not having to try to impress someone everyday, it's also important to remind your partner that you still want to look nice for them from time to time… Not to mention that you know you look good.
If nothing else, throwing on some sexy lingerie is a surefire way to get things going bedroom. Not only will he be stunned by how crazy amazing you look, dressing up (or down, as the case may be) also shows him that you want to look good for him, which will make him feel pretty damn special..
Even though he's already seen you naked, lingerie accentuates your beauty and allows him to re-explore your body as if he doesn't know what's underneath. He'll be able to pull on the straps or run his hands over or under the fabric, really giving him the opportunity to touch your erogenous zones and make foreplay last longer. And who doesn't want that? Plus, his immense desire for you is going to make you feel more attractive than you ever have. You'll feel sexier and more confident in yourself, and since you'll have his entire focus, you'll feel in full control.
Dressing up for You:
Relationship or not, lingerie can be more special for you than it is someone else! It's empowering seeing someone's face when they see you all dressed up; you feel like the sexiest person in the world! Wearing lingerie under your regular outfit is like a sexy secret you get to keep all to yourself. You'll be silently smiling to yourself all day because only you know you look damn good under your clothes. And don't be afraid to treat yourself to something a little on the pricey side. The higher the quality of the underwear, the better it will form to your body, so your clothes will hang better and be more flattering.
To top it all off, buying it is so. Much. FUN! Most of us loved playing dress up when we were younger, and shopping for lingerie is basically just playing adult dress up. There are so many different styles, colors, and fabrics that look sexy even on the hanger, you just want to try them all! If you're feeling fun and flirty, you can get a babydoll style of lingerie. They're usually flowy and soft, making them fun to spin around in and super comfortable to sleep in. If you're feeling empowered and daring, you can get a corset with a garter set, perfect to wear under your clothes and even better for seduction. Or maybe you want a lacey, black and white maid outfit because you're feeling a little role play action. And all the accessories: headbands, fans, feathers, boas; the list is endless!
Whether you're trying to bring some spice and sexiness back into your relationship or trying to give yourself a little confidence boost, adding lingerie to your wardrobe will yield only positive results. It definitely can't hurt. Bring in the new year with a brand new, sexy you!