Electric Love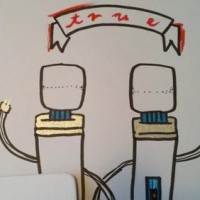 10 years and still going strong. Who knew I'd spend so many wonderful years with you? Your electrifying love gives me strength in times of weakness, passion in times of extreme boredom, and showers of orgasms in the worst dry spells you could imagine…

Of course, every relationship takes work. I drilled a hole in my nightstand so that I could always have my Magic Wand by my side.
If one day my Magic Wand blows a fuse and our love dies, thank god I can go to Good Vibrations and buy a new one.
The Hitachi Magic Wand (the cadillac of vibrators) will henceforth be called the Original Magic Wand Vibrator. Same vibrator, better title. After all, the Magic Wand is many people's original orgasm.
Here are some glowing reviews from Good Vibrations that encapsulate my love the Original Magic Wand.
Soulmates truly do exist
"This very morning, after 22 years, I finally had to retire you, my faithful Magic Wand. Amazingly, your motor is still going strong, but I have worn out your cord. For a short while, oh maybe an hour, I considered playing the field, taking my time, and venturing into new territory, but after reading all these reviews, and remembering these past 22 years with great fondness, I put in my order quick. I miss you already!"
~Gk66
The best relationships are the one's that help you come into yourself
"I've had my wand for over a year now and I'm absolutely thrilled with it. Before I had this wand, I didn't know what an orgasm was. Seriously, I had never came before. Thanks to the wand, I was able to explore my sensuality. Now I can come with ease from many different forms of stimulation."
~Reviewer pythagorea
Mother's stamp of approval
"This was one of my first vibrators, and it is still by far my favorite. Through antidepressants when my libido was non-existant, this honey kept my moja alive. Highly recommended for those who find orgasm difficult to impossible, and it makes a great gift, too (ask my Mom! She loves her Christmas present!!)"
~ Anonymous
Like mother, like daughter
"My sister first told me about the Magic Wand about 10 years ago, and I still use it (almost) every day. Since then, I have given it as a gift to several close friends as well as my daughters. Wow!!!"
~ Anonymous
Side note– Everyone and their mother should have a Magic Wand.
You're worth it even when you're loud and piss off my cool British friends
"Oh, how I love you, Magic Wand! Let me count the ways. You showed me how to have a clitoral orgasm after years of experimentation. You blew my British friend's fuse, you were so powerful. When I went to England, I blew through two adapters for you, and I'd do it again. You make one hell of a racket, but I don't care, you're worth it. One power tool I can never be without, you live under my pillow for the good times and the bad.
My boyfriend was suspicious of you at first, til you touched him in your special way. Now he wishes he was with you too. I've met few who have met you and didn't like you. You're a god among vibrators. I salute you."
~KittyStryker
Seriously, what would I do without you?
"It's been my bedside buddy for 8 years now, and I don't know what I'd do without it. Best quality. If you have a hard time getting off, this is the one for you. I never even use the high setting- the low is plenty for me. Long, rolling orgasms. Amazing. Do yourself a favor and invest in the best."
~LadyDi
You can't fake true love 
"The Best Toy in the Entire Universe. Ever. I'm not kidding."
~Lee

Don't worry Lee, I take the Magic Wand very seriously.
Maybe someday you'll find yourself furiously typing away a review of the Magic Wand. 
Happy Original Magic Wand anniversary, no matter if you've had yours for 22 years, a couple months, or are getting one in the mail in seven days.