Emily does the Brazilian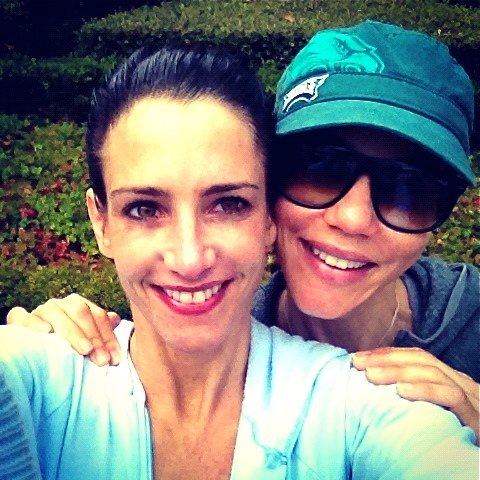 My legs are still shaking as I write this after my morning workout. Recently I was tracked down on Twitter by a local San Francisco fitness trainer who wanted to work with me. I've had sessions with trainers in the gym before but what Isabela Staycer  proposed was something way more challenging and fun. Isabela Staycer is an expert in Pilates and known for her Brazilian Bootcamp. Based on her Brazilian heritage she knows a thing or two about getting the coveted "Brazilian bootie," and who doesn't want that? I've loved our workouts the past two months and truly see a difference in mind, body, and spirit.
Here's Isabela's guest blog post as seen on The Bravo Bitch website:
It started like so many relationships do these days: on Twitter!  My name is Isabela Staycer, and, as a Pilates, Bootcamp and Fitness Maven, I don't have a lot of time to watch TV, but, when I do, it is often Bravo and its Bravolebrities.  When I heard that one of the latest Bravo hits, Miss Advised, was partially filmed in my home court of San Francisco, I decided to follow one of its stars, Emily Morse.  The rest, as they say is Twitter history.
I have done my share of training celebrities, pro athletes and even some Housewives have attended my classes, but I had never used 140 characters to convince someone to try one of my workouts.  I reached out to Emily and told her she needed to attend Bela's Brazilian Bootcamp (I can be quite convincing).  Before coming to her first session, Emily invited me to a viewing party for one of the Miss Advised episodes.  I was flattered, but also knew that, more than likely, she wanted to make sure I wasn't some random rabid fan.
At the party, I found out that Ms. Morse is not only a sex expert and radio talk show host, but also a girl who is known for saying "yes" to everything. (Compliance: one of the most underrated qualities in a fitness client)  I knew I had a willing participant who would put up with my demands!
Two days later we met on an early, damp and grey San Francisco morning. She showed up right on time.  A first workout with a new trainer is just like a first date.  Both parties are getting to know each other, lots of questions are being asked, especially the most important one: could we be a match?  It didn't take us long to find out.   We worked through the series of standard squats, lunges, and pushups that I require of my clients, mixed with some of my signature Brazilian Bootcamp moves . With Emily, as everyone I work with, I aim to deliver individualized results-oriented workout experiences.
Emily and I have been meeting about twice a week ever since. She is a physically tough client who never complains. I  do, however,think her least favorite exercises are my signature Brazilian Butt Series (they burn!) and her favorites are our final stretches at the end (can't blame her).  We talk about anything and everything during her workouts, and, most importantly have fun.
Because she is a girl-on-the-go (flying to NYC to hang out at the Bravo Clubhouse, or LA to guest on a variety of shows)  we can't always meet in person, so I make sure she packs one of my DIY Series.  Here is a mini-sample of what Emily Morse should (are you reading this, Emily?) be doing in her hotel room. You can try it too!
Wall Sits – sit against the wall, as if you are sitting on a chair with knees bent at 90 degrees; place a rolled up towel in the middle of your knees, and squeeze it 30 times
Pushups– 15x
Raised Heel Wall Sits – repeat wall sits, but, this time, with your heels lifted up off the floor (squeeze your towel 30 times again (shaking is normal!)
Triangle Pushups –  15 X with your hands in a triangle position
Lunges – Right leg forward: lower and lift your body 25 times (make sure your front knee is always right on top of your front ankle – forming that same 90 degree angle you used in Wall Sits)
Turned in Finger Pushups – 15 X with your fingertips turned in
Lunges – Repeat lunges with left leg forward (25 reps)
Abs/Butt – Lie down on the floor with towel rolled up in the middle of your knees, and do: 50 crunches, 25 butt lifts, 50 crunches with the twist (sounds like a cocktail from one of the Housewives) and 25 more butt lifts.
Isabela Staycer is a Brazillian native living in San Francisco. Follow her on Twitter @iStaycer. If you live in the Bay Area, you can visit her at Yoga Works on Divisadero Street or email her at istaycer@gmail.com to book your own workout.  Isabela is currently working on a podcast version of Bela's Brazilian Bootcamp.
Follow Emily Morse on Twitter @SexWithEmily, tune into her Sex With Emily radio show, and catch her on Bravo in Miss Advised. Visit sexwithemily.com for more information.