Erotic Masquerade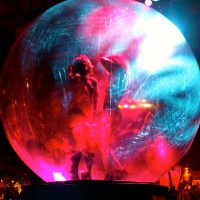 What sinister pleasures await behind the security of a decorative mask? With the additional advantage of hiding your true identity, will you obediently participate in the festivities? Or will you be a mischievous trouble maker to those around you? Select your proper facade carefully, as you may find yourself permanently becoming this unfamiliar version of you. Get ready to masquerade!

Celebrated features of 15th Century carnivals, masquerade balls have come to be recognized as decadent parties for participants to disguise themselves in outlandish costumes. The Renaissance saw a considerable period of masquerades and extravagant parties, but there has since been a recent surge in masquerade revivals all over the globe. Revised as contemporary adult celebrations, masquerades now find themselves slipping into 'erotic' territory as they now exist as evenings for sexual exhibitionism.
The 2nd annual Masquerotica experience — a lavish costume-only adult party — ignited San Francisco's 2012 Halloween season with an orgasmic moan. Advertised as "a sinfully sensual soirée," Masquerotica saw visitors enter a vibrant and colorful dreamlike space where sexuality was encouraged and praised. The Concourse Exhibition Center was dressed — or undressed — into an intimate fantasy land adorned with human-sized hamster balls and zombie harlequin girls scavenging for human flesh. Part erotic art exhibit-part musical event, San Francisco's Masquerotica made it its sworn duty to get patrons off — in the best way possible.
There is nothing more exciting than a costume event where almost every person in attendance is in costume. You'd be surprised how many "parties" I've attended in the past where the only people in costume were myself and the security personnel — well, maybe those was just their uniforms. Superheroes, sex kittens, and primal tribe villagers all excitedly ventured through the exhibition center with more attitude and character than your average community theatre actor — I was deeply impressed!
I'm sure everyone present for the event arrived with different intentions or interests in mind, but there seemed to be something for everyone at Masquerotica. Getting lost in a miniature market of masks and whips was a definite highlight, but the amateur pole dancing competition now holds a special place in my heart. Seeing just about anyone and everyone take a swing on the pole truly gives a person a sense of pride in how sexuality is ageless.
Perhaps it was due to the significant amount of costumed facial masks, or the apparent overflow of potent alcoholic beverages, that participants in Masquerotica really got into character. Whatever the reasons are, there seems to exist a magic with the idea of a disguise allowing people's inhibitions to dissipate. The many characters parading through Masquerotica reveal how costumes can give us the power to become whoever we wish to be, even if just for one night.