Christian Lube-A-Ton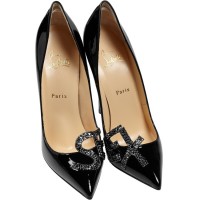 Announcing some history and a joke from Emily Morse's office, where we love our Louboutins, "Lubes"….
Christian Louboutin is the French shoe designer who makes the extra high heels with the extra-high price tag and, signature red soles.  His Sex Patent-Leathers Pumps (see photo) retail at $1,395.  Rappers love them, ladies lust for them, and companies knock them off.  A rival French fashion house, Yves Saint Laurent (YSL) was recently sued by Louboutin for trademark infridgement.   The court ruled that Louboutin retains the exclusive right to use the color red on the bottom of its shoes whenever the outer portion of the shoe is any color besides red.  YSL can continue to sell shoes with red on the sole only if the whole shoe is red.  Louboutin  has single-handedly made red the most sought out color for the bottom of a shoe.
This just goes back to the old saying "sex sells."  Red is the color historically associated with sex, love, and lust. Red lips and blushed cheeks stimulate arousal and red roses are given as a symbol of love.   The "Red Light District"  of a city is an area where there is a high concentration of sex shops and brothels.  In N.W.O's (New World Order) song   "Lady in Red,"  the lady in red  represents sex and temptation.
Finally, is it just too convenient that the shoe designer's last name is Loub-ou-tin?  The shoes  have even been shortened to  "Loub's"  in pop culture lingo; or, "lubes" to us.  We joke, Christian, do you Lube A Ton?