Why does she feel objectified?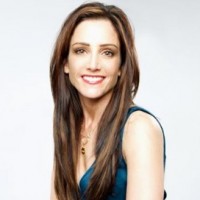 Dear Emily,
My girlfriend says that in the middle of having sex she starts to feel objectified.  What do you suggest?
She's 25.  I'm 41.  We have been together for about 2 years.  I'm pretty sure she had orgasms in the beginning but it seems like she hasn't in a while.  Some of the things I've tried… I usually give copious amounts of oral sex.  She's usually really quiet the whole time. I attentively listen for cues to aid in pressure and placement, but rarely get much.  One time she said that she felt cunnilingus was like I was off doing my own thing.  I've tried vibrators but she says they're too mechanical and artificial.  I've tried manual stimulation a la Extended Massive Orgasm.  She might enjoy that for a little while but eventually starts thinking of it as not natural.  The most audible feedback I get from her comes during intercourse.  Our intercourse is totally conservative and not remotely objectifying.  She often resists when I invite a switch from missionary to doggy.  I don't pressure her and stick to missionary.
Truth be told, I think she has a significant chip on her shoulder about the male/female inequalities of society and that really screws with our sex life.  She has strong objections whenever an author chooses "he" as the personal pronoun referring to a person of unknown gender.  She's not a lesbian and while she has said she's bisexual, she has never had a lesbian experience.  I don't think she has a history of any sexual mistreatment from men.  Relative to other women I have known, I'd consider her more confident,  articulate, bossy, funny, cuddly and emotionally detached.
Thanks,
Frank
Oh, Frank.
Feeling objectified by men doesn't make her a lesbian.  You don't have to be a lesbian to have issues with men. You don't have to have a history of sexual abuse to have issues with men either. Your girlfriend is 25. She grew up in a cultural landscape where feminism is increasingly mainstream (thank goodness!). Instead of viewing this as a "chip on her shoulder," try being more receptive to her concerns. This can help her feel more comfortable with you during sex.
It sounds like you think her beliefs about gender and power dynamics are putting a damper on things in the bedroom. I'm glad to hear you have been trying various methods to bring her to orgasm. However, I suggest you put an equal amount of effort in understanding her politics. Feeling connected to you on a philosophical and intellectual level can very well translate into a sexual connection. Try reading up on gender politics and discussing it with her over a cup of coffee or during dinner. Once she views you as an ally she will stop feeling objectified by you and will be more adventurous and less conservative in bed. She will stop feeling like a sex object once she feels that you sympathize with and understand her feelings. And maybe you'll learn some interesting things along the way!

xxx,
Emily