Feminist Porn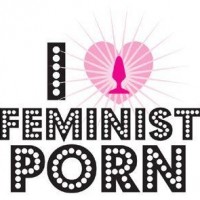 Many men think they can tell if a woman is faking an orgasm, but they've been watching women fake it over and over again in porn. They even epitomize these "climatic" moments as their greatest sexual fantasies.
Well, I hope your fantasy isn't pounding away while a woman pretends to love your penis. Because that's what a lot of porn is.
Most porn is made for men, not women. And for some men it's their only guide for getting it on. But why would something specifically made for male pleasure teach you how to please a woman?
Feminist Porn offers an alternative to male-centered porn. The independent filmmakers of feminist porn capture real orgasms.
Feminist porn also represents a wide range of sexual orientations and ethnicities. The people having sex are unapologetic about their race, ethnicity, gender and pleasure.
In mainstream porn, violence towards women is often sold as sexy. Feminist porn presents the radical idea that sex with mutual respect– gay or straight– is sexy. Both men and women can watch feminist porn and feel empowered to have more fulfilling sex lives. 
The Feminist Porn Awards recognized some of the best sex positive porn out there, including Good Releasing's sex romp, Billy Castro's Naughty Squirters. Good Releasing is the film production side of Good Vibrations and is the best feminist porn out there. 
If you're looking to learn something, Gush, Heads Up,  Going Down will get you there. Or if you want to watch porn with your partner, snuggle up to The Craving (Wicked),  All About Ana, and Feeling It!…not faking it to enjoy a real orgasm together.