Folsom Street Fair: Lettin' It All Hang Out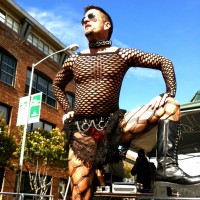 Kyle goes undercover in leather and chains to report on the Folsom Street Fair in San Francisco. 
Leather restraints. Chrome harnesses. Public masturbation. These may sound like the ingredients for a gruesome gang bang, but they're actually requisite elements of San Francisco's underground BDSM scene. For the duration of one Sunday in September however, the usually-private S&M subculture thrusts its way out onto the streets and into the appetites of excited crowd-goers. The normally conservative behavior of San Francisco's colorful civilians — I say this with mild irony — becomes transposed with the fervent desire to perform sexually explicit acts for aroused audience members. A community of sorts, the countless leather 'daddies' and submissive slaves that litter the streets seem to awaken a primal urge in San Francisco to 'let it all hang out' — balls and all. Yep, it's that time of the year again: Folsom Street Fair!
Inaugurated in 1984, the Folsom Street Fair was erected — pun intended — to celebrate San Francisco's leather-loving subculture of the gay community. 28 years later, the celebration is still rock hard and exxxcited to showcase all sorts of new advancements in sex-related inventions for curious visitors to witness on-site. Words cannot begin to describe the sights and scenes that take place between the 13 blocks of Folsom street. Grown men dressed as little girls, leather-harnessed 'ponies,' Sigourney Weaver look-a-likes; it's all here for your voyeuristic pleasures to soak up, and even indulge in if you're a willing participant!
I was fortunate enough to have a compliant friend to dominate my submissive needs by walking me through the street fairgrounds on a leash. As a young gay San Franciscan I can honestly state that it takes a lot to shock me these days, but lo-and-behold I found myself slinking obediently behind my 'master' on my first visit to Folsom. Who knew it was legal to masturbate from an upstairs window? Or in a mass line-up in front of a dumpster? Exploring the many booths and exhibitions that line the street, it's important to note how genuinely excited and playful most of the crowd-goers are. During a public urination exhibit, the flood of people in the front didn't even seem to mind being in the 'splash zone' (I don't judge).
As bizarre and outrageous as the Folsom Street Fair may be, it is a healthy reminder of the many privileges gay men have living in San Francisco. Not only gay, but also straight, bi, and everything else in-between all hold the freedom to join in on the innocent fun (it's even encouraged).
Watching a live demonstration for electronic nipple clamps can surprisingly inspire a person in unsuspecting ways, so needless to say I cannot wait for next year's festivities. I personally won't be joining a bondage fraternity anytime soon, but I support anyone's secret need to be dominated — or be the dominator. Just make sure you clarify your 'safe word' first!