Fun Factory Toy Review: The Stronic G & Volta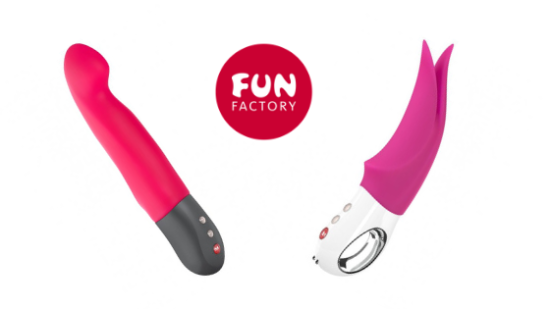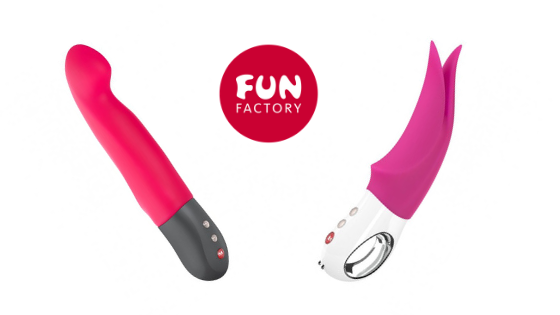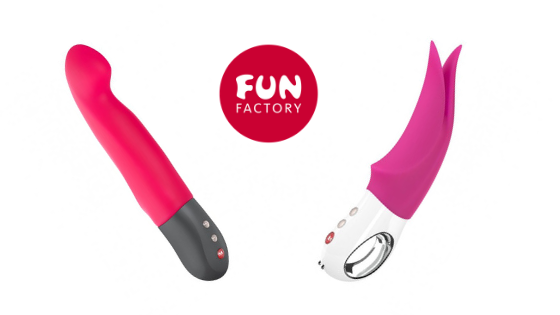 In the last few years especially, sex tech has grown above and beyond what anyone would have imagined. Slowly coming into the mainstream because people are starting to bury the same that goes along with pleasure, companies are trying to outdo themselves at every turn. All in the name of pleasure.
A truly beautiful thing.
Here at Sex With Emily, many a toy comes through our doors, so we've seen quite our share. Today, we're taking a trip down Fun Factory lane – a company that continues to elevate their products to orgasmic heights. Buckle up, it's going to be a buzzy ride.
Jamie's Night with The Stronic G
Fun Factory is a company that I've long marveled at for a few reasons. One, the name is simple and perfect. Two, they make their toys with quality and care right down to the packaging. Seriously – they use vegan and organic dyes on all their boxes, not to mention that their products are completely 100% body-safe silicone. Three, they're just so innovative, bringing a LOT to the sex toy table.
I'm largely a clitoral gal when it comes to masturbation. It's not that I mind an internal toy, it's just that I much prefer to save my internal orgasms for when I'm with a partner. However, every now and then I figure, what the heck, and venture into a more blended territory.
Because I can't give up the clitoral stimulation altogether (as a lot of women can't), I tend to couple the internal toy of choice with my handy dandy Womanizer 2go. If I didn't, it might get jealous – it does live under my pillow, after all.
I was very interested in the Stronic G, so I was eager to try it out and make it besties with my 2go. The thing about the Stronic is that it's a pulsator – which means it thrusts on its own. You know, for a "hands-free" experience.
How it Went Down (or up):
With a few drops of lube (on the toy and myself), I started on the lowest setting to get a feel for it, still holding on for the sake of support. So far, so good. Nothing crazy, but interesting.
I went up two more levels, where the thrusting increased – in speed and force – and used my pelvic floor muscles to hold it in place so I could let go and grab my Womanizer. This is when I could really feel my g-spot coming out to play.
Keeping my breaths deep and my Kegels strong, I had one of the most explosive orgasms I've ever given myself. Not going to lie, I patted myself on the back after that one – even thought of taking my sweet self out to dinner.
The Verdict:
This is a great and wonderfully innovative toy. My only critique is that the thrusting was able to gain in power without going up in speed, but overall, I am very impressed. While it may not have earned its place rooming under my pillow with my Womanizer, the Stronic G is definitely getting added to my masturbation rotation.
Sarah's Views on the Volta
Fun Factory's Volta brings power back to the clit. It's a powerfully fun little vibe that simulates the tantalizing tongue licking one experiences during oral sex. Just add a little lube (or a lot) everywhere for some heightened sensations.  You can place this vibe anywhere you want for teasing. You see, the volta was designed to stimulate not only the clit, but so many other erogenous zones including (but not limited to) the nipples, testicles, sphincter, and penis. 
There are a lot of ways to play when it comes to this toy. Plus, it's manufactured with travel in mind – equipped with a travel lock safety feature so you don't have to worry about your luggage starting to buzz.
How it Went Down (or up):
It all started with the breasts – breast play being a personal favorite. Imagine your lover behind you, their warm breath teasing the back of your neck, stroking your genitalia as they place the volta's lips at the tip of your lube glossed nipples. UGH. YAS. PLEASE. Six speeds. Six patterns. Multiple breastgasms.
Penis havers are not forgotten by the Volta, oh no. Separating the lip like tips of the volta on either side of the shaft – with some lube and slow motions – makes for an incredible addition to any blowjob. The gentle lick-like flicking of the volta paired with your favorite lube and some oral flare from your partner(s) equates to a good time to say the least.  
Ahhh, the clitoris. This is where the six speeds and patterns of the Volta really comes in, let me tell you. This beautifully designed flame packs on heck of a punch for the 8,000 nerve endings possessed by the clitoris. Start slow teasing your favorite erogenous zones, careful not to overpower your clitoral head with this little guy… unless that's your style; going straight for the kill. The lips of the volva can be parted so that one tip is inserted into the vagina while the other stimulates the clitoris for double the pleasure. The vibrations are so deep, it even gives your hand a unique massage by holding it.
The Verdict:
The bendable dancing tips of the volta offer variation that can keep up with the creativity anyone's mind – no matter how kinky. Just add lube and a little lovin' and I give it two thumbs up.