Get Your Girl Power On for International Women's Day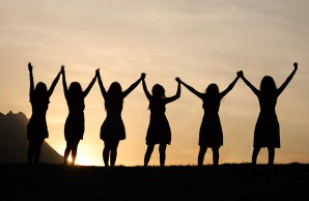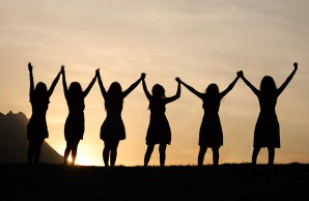 Happy International Women's Day!
Starting back in 1909, International Women's Day originated as a way to honor the movement for women's right. It is observed in many countries around the world. Although the focus of the day differs from region to region, the overall goal is the same: to celebrate women in all their achievements, whether they be economic, social, political or even, you guessed it, sexual.
In the grand scheme of things, women have a lot more important accomplishments to celebrate than the fact that our pleasure is now a priority (or is on its way to being one, at least). Even plopping orgasms on the list of "wins" for women everywhere seems to trivialize the real wins, like suffrage, reproductive rights and advances in equal employment. Compared to the ability to vote, own property, make choices regarding our own bodies and find equality in the workplace, being able to rub one out to completion doesn't seem like such a huge feat. But considering the fact that women have been sexually oppressed across history, kept in in the dark about our own bodies and afraid of our own sexuality, every single moment of sexual fulfillment feels like a triumph.
Many of us ladies grew into adulthood with some pretty mixed feelings about sex, but our struggles today are nothing compared to the generations of women before us, the women who fought for our right to express ourselves as sexual beings. Thanks to the sexual revolution of the 1960's, and continued efforts to normalize female sexuality, we are finally entering into a time when women are praised for enjoying sex and encouraged to discover new ways to enjoy it even more.
For women, knowing our bodies is tantamount to our sexual wellness, not to mention our enjoyment of all things sex. And masturbation is one of the best ways for women to get to know themselves sexually. Through solo exploration, we learn what we like and how we like it — then, and only then, will we be able to translate this knowledge to sex with a partner. The result? A happy and healthy sex life!
In celebration of women everywhere, the Sex With Emily team decided to assemble their favorite female-centric, girl-powered sex toys and create one master masturbatory list. What sex toys make us feel on top of the world? What vibes have helped us unlock doors to better sex with ourselves? Find out…
Jamie's Pick: The Womanizer
I know what you may be thinking: how can a toy that's called the Womanizer be a girl power sex toy? This Womanizer is completely different from the men who constantly go from girl to girl, treating them like sex objects instead of human beings. This toy SUCKS… but that's what I love about it. It literally sucks on your clitoris, sucking the orgasm right out of you. It looks like a sexy ear thermometer and while it may not be able to take your temperature, it sure as hell can raise it. All you have to do is place the white silicone cylinder over your clitoris, lay back, and let the magic happen. The "pleasure air" technology lightly sucks on your clitoris, causing insane orgasms within a minute or two. And yes, orgasms, plural. If you've never experienced multiple orgasms before, the Womanizer may just be the product to get you there.
Take it from me, it's one quickie you won't be dissatisfied with. It's perfect for all you busy, independent women out there. You can go knock out a quick orgasm and return to your grind before anyone becomes the wiser. I know I'll be womanizing myself all Women's Day long.
Laurie's Pick: The We-Vibe Touch
I have a very special relationship with the Touch by We-Vibe. One of my most memorable sexual moments was brought about by this amazing little device and it has become a beloved mainstay in my masturbation regimen ever since. It's the only device that has ever given me the power to achieve sensations I had already written off as impossible (talk about empowering).
This glorious gadget is responsible for giving me my first ever multiple orgasms and I couldn't be more grateful. The vibrations are pointed and powerful. The patterns are different and effective. It's sleek shape and design contour to cup your clitoris like a raincoat in a thunderstorm. Speaking of getting wet, the Touch is completely submersible and has become my designated shower vibe. I live with my boyfriend and having a moment to myself outside of the bathroom is a rarity, so every time I shower I spend some sexy slippery time with my favorite handheld multiple orgasm machine, the Touch. It makes me come and come again and come harder, and on this International Women's Day, the Touch and I will be celebrating with an orgasm or five.
Intern Lola's Pick — The Magic Wand Rechargeable
The Magic Wand is like a classic car – it's a sex toy we all know and love, and have trusted for over thirty years to provide us with powerful, penetrative vibrations. Personally speaking, I feel a sense of comfort every time I turn mine on. The Magic Wand is the sole reason I experienced my first of many clitoral orgasms, and over the course of our relationship, it has not once let me down.
So why is the Magic Wand my pick for a girl-power sex toy? After giving this question some thought I thought to myself – why WOULDN'T it be? International Women's Day is all about showing women how amazing they are and showering them with pleasure and love – the Magic Wand does that every single time it's used. It provides powerful, penetrative vibrations that will make any women feel like royalty. Plus, the new rechargeable Magic Wand provides you with the freedom to self-love anywhere and has four new vibration patterns to provide you with a plethora of orgasms. Every woman deserves to feel like the queen of her castle – what better way than by spending some time with the queen of sex toys? I know that's how I'll be ringing in the day…
Madison's Pick — The new Nova by We-Vibe
If you had asked me a month ago what my go-to female-centric sex toy was, I probably would have gone with a simple (yet exquisite) clitoral vibe. The Wand. The Mimi. The Crave Duet. My trusty $10 Magic Bullet. What can I say? I'm all about those external vibrations. Plus, I'm a fairly busy lady who prefers products that are as efficient as they are effective. I don't have time to lay around and pray for a G-spot miracle — I've got people to see and podcasts to produce. For this reason, I have always had my reservations about insertable sex toys. It's not that I don't like them, I just maintain that there are more expedient ways for me to get my rocks off. And I've certainly tried my fair share. I've given it my all with G-spot toys; I've rocked the Rabbit vibes; I've dabbled in dual stimulation. And every time, I got the sense that there was something missing… Until I nestled in with the Nova by We-Vibe.
Like other dual-stimulation devices, the Nova has both a sleek insertable shaft and a curved external appendage that's intention is to stimulate the clitoris. But unlike your garden variety vibes, the Nova has something special up it's smooth silicone sleeve: It is designed for continuous clitoral stimulation. It flexes with your movements, so the external vibrator maintains uninterrupted contact with your clitoris no matter how you maneuver the insertable shaft. This means that you can thrust and twist the Nova as much as your need to stimulate your G-spot and the clitoral appendage will flex right with you without losing contact to your lovely lady bean. For me, this meant that I could finally achieve the blended orgasm, my G-spot and clitoris singing in perfect harmony! On top of it's yogi-worthy flexibility, the Nova's two powerful motors can be controlled independently, giving you the option for just external stimulation, just internal, or the best of both worlds. And those 10+ vibration patterns throw even more variety into the mix.
Women have such a HUGE capacity for pleasure, and the Nova allows you to experience more orgasms than your average one-trick pony. But most importantly, it made me a dual stimulation believer, and that, my dears, is surely worth celebrating!
Did your favorite self-loving sidekick make the cut? Let us know: Feedback@SexWithEmily.com
Learn more about the Nova (or get one for yourself) at WeVibe.com.
See what's new with the Magic Wand at MagicWandRechargeable.com
Find all the female-friendly sex toys your lady parts desire at GoodVibes.com; Use code EMILY for 15% off your purchase!