Give an Amazing Blowjob in 3 Simple Steps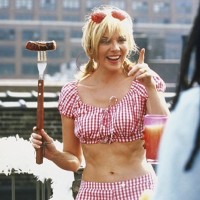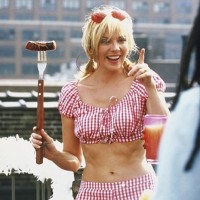 Samantha Jones famously proclaimed during a Sex and the City episode, "They don't call it a job for nothing" after dealing with a particularly challenging blowjob situation. Luckily, all blowjobs don't have to feel like a job. These three easy steps will make giving one quicker, easier, and more pleasurable for both parties. Get ready to lick it, grip it, and finish it!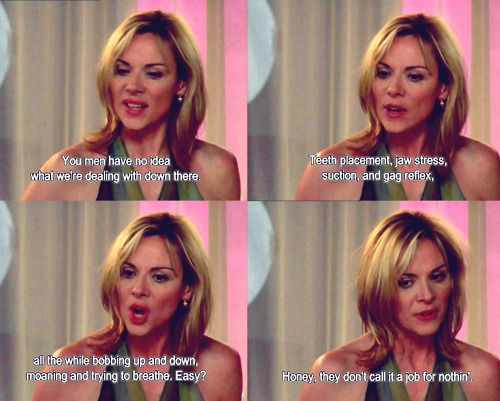 1. Lick It
Your tongue is the greatest weapon in your arsenal. Wrap your mouth around his penis, cover your teeth with your lips, and prepare to lick. Whenever you swoop up, swirl your tongue around the head of the penis. The frenulum is the most sensitive part of the penis, located on the underside of the penis where the head and the base meet. There's a little V inscribed in his penis—that's the frenulum. Trace it with your tongue before traveling back down the base.
2. Grip It
You don't have to swallow his entire penis to give a great blowjob, but you do want to apply an adequate amount of pressure. Using your hands is a great way to compensate for any lack of pressure from your mouth, plus it makes giving a blowjob a lot easier. Wrap your hand around the base of his penis as if you're about to give it a handshake. Make a firm grip without suffocating his penis, and start moving his penis skin up and down while your mouth works on the tip of his penis and the upper half of the base. Try giving his penis a little twist with your hand as you circle your tongue around his tip. Take notice of what he likes and redirect your attention accordingly.
3. Finish It
You'll know when he's getting close to orgasming. His penis will become extremely hard and his breath will quicken. Once he's almost there, keep doing exactly what you're doing until he orgasms. Whatever you're doing is working, don't get ambitious and improvise at the end. If you have decided to swallow, keep moving your mouth while he orgasms. Be a little more gentle with your tongue because the head of his penis will be extremely sensitive during and after orgasm. If you don't like the taste of semen, Masque: Sexual Flavors will completely mask the taste with a splash of strawberry, watermelon, or mango.
Now that the job is finished, it's his turn to lick it!
This article was originally featured in YourTango: Give A Mind-Blowing Blow Job With These 3 Simple Steps.