Giving, With Benefits: Your Black Friday Holiday Gift Guide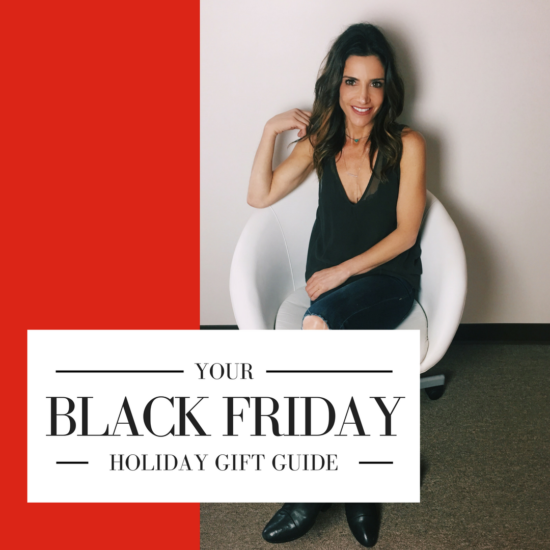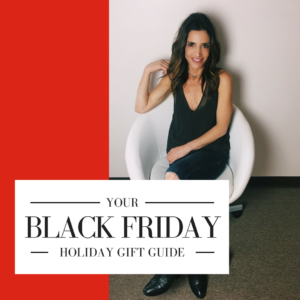 Well friends, this is it, we made it. After a year of anticipation we are finally back in Black this Friday! Our Sensual Holiday Gift Guide has everything you need, and we couldn't be more excited to share it with you. This is a very sexy time of year after all. The hum of parties, the glitz of lights, and the magic you feel as we take the opportunity to get closer to the ones we love. With all the buzz and happy holiday vibes, this is the perfect time to give as good as you get.
For those of you who've been following our 10 Days of Sex-Giving, you may see this Black Friday Sale as the culminating event, but we are just getting started. We have lots of toys and goodies for you, your friends, and your lovers… regardless of whether you've been naughty or nice. So while the buzz of festivities flushes your cheeks and sparks your desire, count on us to give you the holiday gift ideas to keep your long winter nights merry and bright.
Our sexy gift guide comes complete with added tips, how to's and even a few date night ideas. And don't forget to take advantage of some amazing deals our sponsors have set up just for you.
---
Home for the Holidays
For many people the holidays are an opportunity to spend more time with their SO. Whether or not it's a long distance relationship, or just the fact that we are all so busy with work and travel in general, this is the time of year when you can count on finding yourself in the arms of your lover and wanting to savor every moment. And after long months apart or weeks of passing like ships in the night, we know that when you finally get to tear each other's clothes off, you want to get your bodies synchronized as fast as possible. We suggest the We-Vibe Sync to help get you and your partner on the same orgasmic page. The We-Vibe has long been touted as the number one couple's toy on the market, and for good reason. It fits snuggly against the clitoris and comfortably on g-spot as a hands-free vibe you can use during intercourse and foreplay, and the most recent models are even adjustable for any body type. But now the We-Vibe Sync takes couple's play to a whole new level with the We-Connect app and remote control. Then if you and your partner must separate again after the holidays, or find the rush of the new year keeps you from each other, use you We-Vibe Sync for long distance fun and continuous romance throughout 2017.
BLACK FRIDAY DEAL ALERT
: Save 20% on the amazing We-Vibe Sync! This deal is good for a very limited time – don't miss it!
Click Here
to order. – OFFER EXPIRED :(
Best Lube Pairing:
Try the
JO Organic Naturalove
to enhance the comfort and pleasure of insertion. This water based lube will also keep a balanced amount of glide while using your silicone We-Vibe.
BLACK FRIDAY DEAL ALERT
: Save 15% on
JO products
when you
Shop with Emily
– use code
FRIDAY15
at checkout!
---
The Naughty List
One of the most scintillating things about holiday sex is the potential juxtaposition of cheery, vanilla, wholesome activities during the day, and full-on Vixen at night where you can be bad boys and girls. Maybe even get a little kinky and wear your sexiest lingerie or Sportsheets' Midnight Pearl Nipple Clamps under your ugly Christmas sweater? As you turn your home into a winter wonderland, get ready to turn your bedroom into your own cozy little BDSM lair. No one does naughty like the incredible designers at Sportsheets. They get this whole mix of discretion and decadence, and they prove it with their signature Under The Bed Restraints. The four adjustable straps work with any bed (even a California King) and the wrist and ankle cuffs are also adjustable so you and your partner can take turns being the giver and receiver. They are also really easy to travel with if you feel like getting freaky in your in-laws guest room.
If you want a lighter mix of fetish accessories you can give your partner the gift of G-Spot orgasms with the Sportsheets Doggie Style Strap. Just the introduction of a bedroom prop can induce excitement, but you'll be all the more aroused when you find this comfortable strap enables easier access to the sweetest of spots. Turn it up even more with the Midnight Lace Blindfold or Bit Gag. Sexpert extra: any of the Midnight Collection accessories make beautiful gifts for friends and lovers. By adding in a sexy lace accessory or delicate tickler, you're letting the receiver know that you celebrate their sensual self. And they make awesome stocking stuffers!
BLACK FRIDAY DEAL ALERT
: Save 25% on all Sportsheets products! Use code:
cybermonday
at checkout to save sitewide.
Click Here
to shop.
Best Lube Pairing:
Try the
JO Gelato
flavored lubricant line. For your naughty nights with Sportsheets, you should keep in mind that it's all about decadence. With lace, leather, and jewel textures, you need a delectable lube that enhances the sensual experience of kinky play.
Salted caramel
is particularly tasty.
BLACK FRIDAY DEAL ALERT
: Save 15% on
JO products
when you
Shop with Emily
– use code
FRIDAY15
at checkout!
---
The Gift that Keeps on Giving
Look around at what we recognize as symbols of the season – candles in the window or on the dining room table, a beautiful meal in the oven, and curling up in front of the fireplace. But, once we hit the bedroom, "warming up" takes on a whole new meaning. For the millions of women who need more than a romantic night by the fire to get in the mood, there is Fiera. Fiera is a small, hands-free personal care device that uses very light suction and stimulation to increase blood flow to the clitoris, sparking a natural desire and readiness for sex. Fiera is doctor-developed and clinically proven to help women with low libido get in the mood. So, while you're lighting the festive flames this holiday, keep your own fire lit with Fiera!
BLACK FRIDAY DEAL ALERT: Save $50 on the
the original Fiera. Normally $199, order it now for just $149.
Click Here
to order and use code
THANKS
.
---
End All Be All
Every year, we wrack our brains trying to think of the best gift ever and every year we wonder if we got it right… well, I'm going to let you in on a little secret. There is one gift that will blow your mind. It's aptly named, The Magic Wand. Which maybe you've heard was named as one of the top 10 most influential gadgets by Time Magazine! Now's your chance to give the gift of amazing, full body orgasms, with one of the most powerful toys ever. You could give the Magic Wand to someone you love very much, or be the nameless hero who brings this incredible present for the White Elephant gift exchange at your office… or you could buy it, wrap it, and keep it for yourself! The holidays are coming, and you should be too :)
Best Lube Pairing: JO Organic Naturalove
is one of our all time favorite lubricants because its water base makes it versatile and ideal for silicone toys; in pairing it with the awesome power of the Magic Wand, the soothing chamomile and
agape
glide work perfectly with a toy you may want to use again and again and again.
BLACK FRIDAY DEAL ALERT
: Save 15% on the
Magic Wand
and
JO Lubricants
when you
Shop with Emily
– use code
FRIDAY15
at checkout!
---
What's in Emily's (Holiday Gift) Box?
Overwhelmed by all the sexy and sensual options out there? Emily's got you covered. With a few clicks, you can subscribe to Emily's Box – a quarterly delivery of enticing products she hand-picked for you. Our friends at Unbound helped bring this dream to life. They have also asked Emily to select a list of other great items that they're discounting just for the Sex with Emily family.
BLACK FRIDAY DEAL ALERT: Use coupon code EMILY25 to save 25% on Emily's Subscription Box and the other great products from Unbound that you see HERE.
---
One More Deal to be Thankful For:
Remember, the holidays are about bringing love and joy to everyone in our lives – including ourselves! This gift guide was designed to help you do just that… but with stronger orgasms. Before you go, we have one more gift for you. From now through Monday, you can save 15% on EVERYTHING in the Shop with Emily store! Use this opportunity to spread some holiday cheer! From Emily and everyone on the SWE Team, Happy Thanksgiving – and happy shopping!
BLACK FRIDAY DEAL ALERT:
Save 15% on everything on
Shop with Emily
by using code
FRIDAY15
at checkout.
BONUS DEAL: Check out this sheet of time-sensitive specials that will be updated throughout this busy shopping weekend.
---
For Even More Holiday Gifting Inspiration…
Check out AskMen's brand new gift guide to pick up unique gift ideas for that special (hard to shop for) someone on your list. You may recognize #5…