Ask Emily: To Golden Shower or Not to Golden Shower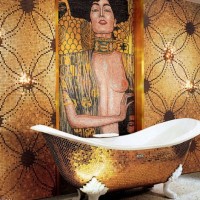 Dear Emily,
I've been seeing someone for a couple months. The sex is hot and heavy, romantic and driven.  But he has shared a fantasy of having me go to the bathroom on him. Logistics aside, is this normal and/or safe?  My mind went straight to "no," but my mouth did not deliver that to him because I don't want him to feel bad about opening up to me.  Should I leave him if I can't fulfill this fantasy of his?
Thanks,
Melinda
Dear Melinda,
You shouldn't leave him because he expressed his fantasy. However, if he says this is a deal breaker for him if you don't participate, then we'll talk. The "Golden Shower" is a common fantasy. Allowing someone to urinate on you is an act of submission and your man would be the dominant in this scenario.
It's important to communicate with him that you're nervous about fulfilling his fantasy. I'm guessing you weren't giddy as a schoolgirl when he confessed his desire, so he probably suspects your apprehension.  Tell him that you are glad that he shared his fantasy with you, but you're not sure if it's something you feel comfortable doing. I think he'll understand. He started a conversation with you because he wasn't sure how you would react. Continue the conversation by being honest and open. Talk about other fantasies you can try out, and you can easily incorporate submission and domination into your sex life in different ways.
If you aren't completely opposed to it then maybe you can meet him halfway with a Golden Shower. Doing it in the shower could relieve (no pun intended) the situation without having to go all the way. Plus it will be much cleaner since the evidence will wash away in the shower. As with any dominant/submissive relationship you have to be sure to establish safe words and boundaries before anyone takes their pants off. Finally, this is about you and what you're willing to do. Don't be pressured into making a decision out of fear you will lose him.  Take some time to figure out your boundaries, fantasies and what you'd like to try. Communication is a lubrication and talking will help you figure out how far you want to go.
xxx,
Emily