Green Sex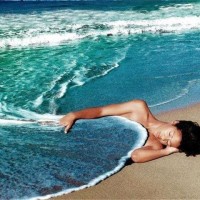 The birds are chirping, the flowers are blooming, bunnies are humping, and you're getting it on shamelessly against the trellis.
No wait, that's not you. That's your fantasy self that's having sex next to a babbling brook. That is of course when you're not riding on the back of a unicorn…
While I can't promise you a unicorn, I can give you a bunch of springtime orgasms. No batteries or man required.
Here are three splendid Spring lovers from Good Vibrations. They are good for your private parts and the planet. If you haven't noticed, Mother Earth is a total babe so you should try to impress her. Especially on her birthday— Earth Day.
Look at those curves!
Before you get started with these three ecorotic (eco-friendly and erotic) babes, make sure to lube up with something body safe and earth-friendly like Please Lubricant. While Mother Nature is beautiful no matter what, you want to go swimming in the lagoon instead of trudging through the desert. Lube makes things wetter and better.
Let's get to the three down to earth beauties.
Uma Waterproof Rechargeable Vibrator
Uma's your girl if you want something a little bigger with a firm grip. She's not messing around. She's not going to paint your nails and tell you how pretty you are. But she will give you orgasms. Lots and lots of orgasms.
Uma is big and powerful, and genuinely cares about your G-spot. She's an ecorotic babe because she's rechargeable and completely body safe. You don't have to buy a bunch of batteries to get this broad going.
Calla Waterproof Silicone Vibrator
Calla is a flowery fox. Her beautifully ridged shaft gives intense internal stimulation while her "pleasure petal" provides clitoral simulation.
All you have to do is press the turbo button to experience
Calla
in full bloom. With five speeds and three pulsation patterns she's no pansy (last flower pun, I promise!).
Not only is
Calla
a beautiful flower, but she's also a freaking mermaid. Because she's waterproof and has special rechargeable powers, she can dive to the depths of the ocean and hang out with Flounder and friends. Such an 
ecorotic
beach babe.
Butterfly Bliss Silicone Waterproof Vibrator
I'm pretty sure that Lisa Frank got off with the Butterfly Bliss. One day she's all unicorns, rainbows, and sunshine, and the next thing you know she's having a mind-blowing orgasm.
These adorable baby blue or hot pink butterflies will flutter on your clitoris while the dew drop tip dips inside of you. The Butterfly Bliss is a the perfect starter vibrator.
She's an ecorotic babe that comes in a recyclable package so all the dolphins, penguins, butterflies, and maybe even unicorns and mermaids can keep kicking it on planet earth.
Remember, every time you have an orgasm with an ecorotic toy, Mother Earth has one too.