Grindr in the Gayborhood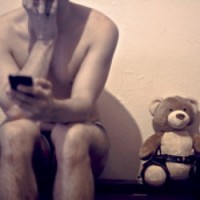 If fairy tales teach us anything, it's that happy endings do exist. In the case of a happy ending coming in the form of an explosive orgasm, we can agree that this key theme in myth lore appears fairly often for many. How we set about in obtaining this 'happy ending' differs with each person and now…sexual orientation.
Smart phone hook-up app 'Grindr' has embedded its electronic horniness into gay men everywhere. Advertised as a dating and friendship-making phone application, Grindr allows its male users to locate willing men nearby — measured in feet! Sure Grindr promises to accommodate different forms of relationships, but the primary use of it has shifted to a more sexually charged utility. The meat market is now open for business 24/7!

As a horny, young gay man myself, it comes without surprise that my interest in Grindr led me to create my own profile. I wanted to see firsthand how useful this relevant app is in obtaining a male suitor – or booty call – from my surrounding area. Because I consider myself to be old-fashioned (I'm no prude by any means), I instantly recognized that the 'hook-up' element to the app did not apply to me. This didn't stop me from enjoying the time to peruse the visible online men who I would 'hypothetically' hook-up with. In fact it helped me to discover what my ideal kind of guy might be because there's such a wide variety of men on Grindr. I like to be wined and dined. Needless to say, the explicit need for casual sex on Grindr isn't exactly up my alley; chemistry is essential to wooing my heart — and genitals! 

Grindr now has over 4 million users in 192 countries and has seemingly inserted itself into the everyday jargon and behavior of gay culture. Appearing on various reality TV shows and gay-centered films, Grindr is slowly-but-surely becoming a way of life for many gay men. Interview magazine recently featured a highly sexualized underwear editorial with male models posing as members of Grindr. There is no denying the power of the app as it continues to penetrate our culture.
The user experience varies with each person, but the primary intention is making physical contact. What this entails exactly, I couldn't really say. Honestly, I declined all invitations to actually meet the guys I had instigated conversations with out of the fear I might meet up with Jeffrey Dahmer for drinks. This is clearly something I need to get over, but hey, Grindr isn't for everyone. Exclusively designed for men 18 years of age and older, Grindr does not beat around the bush when it comes to sexual encounters in the Gayborhood; it just wants to beat you off instead.