Halloween Candy For Adults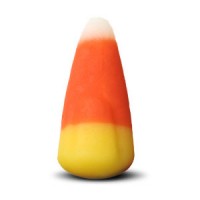 Candy is not just for kids.  As Halloween approaches we have some kinky candy suggestions that can be used whether you are shopping for trick-or-treaters or want to spice up the bedroom.
1.  Blow Pops-
---
The watermelon variety reminds me of my favorite flavored Masque oral strips; and, is a great pink color for the lips.  Unless you or your lover has an alien fetish, I would advise against sucking on sour apple blow pops.  However, the green does go quite well with an alien Halloween costume.
2.  Candy Necklaces (and lingerie, oh my!)-
---
Whether it's you, your partner, or some one else eating sugar circles from around the neck; things are hot using candy accessories for Halloween.   Candy bras and g-strings are great to be a Sweet Seductress.
3.  Red Hots-
---
Spiciness increases arousal.  Capsaicin, the source of spiciness, triggers endorphins, which heightens sensations of pleasure necessary to have great sex.  Give these out to trick-or-treaters or keep them all for yourself.
4. Dark Chocolate-
---
Keep those dark chocolate Hershey bars!
Dark chocolate is known for its carnal benefits.  The ancient Mayans and Aztecs revered dark chocolate for its powers of erotic stimulation.  Alkaloids in dark chocolate, including phenethylamine, increase brain serotonin levels which heighten levels of pleasure. After eating chocolate the body produces dopamine, the brain chemical that surges during orgasm.
5.  Candy Cigarettes-
While candy cigarettes might be controversial to give out to trick-or-treaters, there is certainly no reason that you cannot enjoy them with another adult.
Cigarettes have long held sexual symbolism in western culture.  When Marlene Dietrich held a cigarette in any of her films, the prop was a phallic symbol  projecting an image of bisexuality.  Sex symbols of old Hollywood loved to smoke.
6.  Pixie Sticks-
---
The sugar found in pixie sticks will give trick-or-treaters energy rushes for their candy search.
Open and suck on them for a quick hit of sugar for a romp,and, oh yeah, the insides have sexually charged "disco dusk" connotations.
7.  Chocolate coins-
---
Yes, I know that this is Halloween and not Hannukah but if the object of your affection is a Gold Digger or a nice "Jewish-Boy" then this candy choice is beneficial.  The chocolate coins also are useful for a strip poker warm up before the tequila sets in and are iseful if the sexual target has an aspiration for bling.
8.  Mints-
---
They mask the breath.   Choose 'em over gum which can get noisy, cow-ish and secretary-like.  Plus run the risk of ruining a bed or a partner's hair.   Sucking on mints before fellatio adds a zing.
9.    Twizzlers Pull 'n' Peels-
---
Great for dangling, sucking, and turning lips red.  Props go to the Pull 'n' Peels over the Twists.  The innuendo is there— you can individually strip 'em off.  Plus, each strip multitasks as a whip and a candy.