Have You Heard What's Coming?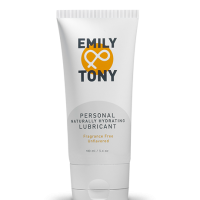 Have you heard about what's coming?
If you're one of the many fans of Emily & Tony's Aromatherapy Massage Candles, than you'll love what's coming next! Emily & Tony are premiering a personal naturally hydrating lubricant that's made from the highest quality ingredients. This flavor and fragrance free moisturizing lubricant will leave you soft not sticky. Ingredients such as Aloe Leaf and Carrageenan extracts work to heal, protect and moisturize the skin. Citric Acid maintains the PH balance while natural botanicals provide a silky smooth feel.
Sign up for the Emily & Tony newsletter now for VIP access to product availability and all the best trends and tricks. Trust us, you don't want to miss this…