Ho-Ho-Holiday Hangups? How to Get Off Santa's Stressed List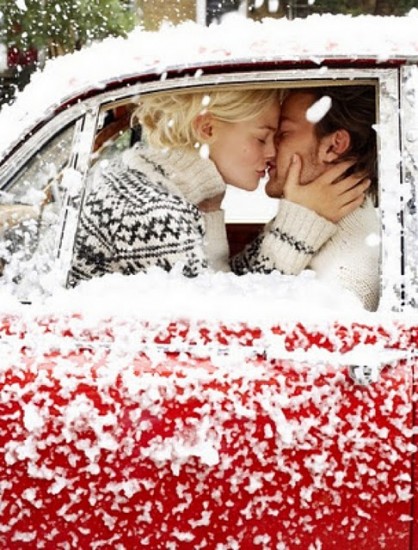 The holiday season is supposed to be one of light, love and laughter, and in many cases it can be! Unfortunately, it can also be a time for increased stress levels.
The season itself is financially straining, getting the right gifts for all of your loved ones on top of your normal expenditures. In addition to the financial burden, there is also the issue of feeling overbooked — With the flood of holiday parties and family get togethers, there are a lot more events to attend than usual; if you're part of a couple, then you'll have to double that! Throw in traveling plans, decorating, shopping, wrapping and occasionally squeezing in some time to sleep… You're looking at one more hectic holiday season, where your main objective is to survive the month, rather than enjoy it.
That's the trouble with the holidays. We're so consumed with making it holly & jolly that we forget to take care of ourselves. We have a tendency to put things that are beneficial to us on the back burner, like exercise, sleep, healthy eating and yep — SEX. Because here's the thing, sex is good for you! It releases feel-good hormones, and helps you relax and get a good night's sleep. That's why it's so important to prioritize sex during the holidays – you need it!  
Whether you're in a relationship or flying solo, the holidays can have a huge (and often negative) impact on your sex life. But instead of allowing this often stressful season to impede on your well-being, why not put intimacy at the top of your Christmas list?
I've assembled some tips for both couples and singles to help you avoid the inevitable holiday fallout and make sure you're getting your season is filled with plenty of "Oh-Oh-Oh"s…
---
For Couples:
Despite what romantic comedies would have us believe, couples have their own set of problems over the holidays. The biggest of these is staying connected amid all the added stress, and maintaining intimacy. There's much more to intimacy than just great sex (although sex can be a pretty great way to connect). Being intimate with your partner also involves spending quality time together, communicating openly, supporting one another and sharing experiences. As important as it is to make time for sex, you should also be making time to check in with your partner and attend to their needs, as well as your own. 
Here are some sexy and fun things to try to ensure that both you and your partner get your fair share of love, appreciation and orgasms throughout the stressful season. 
Play Masseuse
One of the nicest things you can do for your partner at the end of a long day is to treat them to a sensual massage, with the help of Emily & Tony massage candles, of course! It shows that you care about their well being, want to help them through a stressful day and impart them with physical adoration. Not only will your lover be loving and loosened up, but they'll want to return the favor. I can only assume you two will be rolling around the sheets in no time.
"Oh What Fun It Is to Ride!"
Another thing that always brings couples together is the thrill of a new adventure. Trying new things together not only heightens your senses, but also bonds you to each other and the experience. And I can't think of anything more exciting to share with a partner than a ride on the world famous Sybian! The Sybian provides a unique, erotic and orgasm filled experience like nothing else can offer, and can be used by couples in multiple ways. You can have massage her and pleasure her while she straddles it, or sit back and watch her ride that rocket straight to the O-zone. No matter how you choose to use it, experiencing something so new and so hot will have the two of you feeling closer than ever!
Quality Time
With so much going on, it's vital that you two take the time to connect on an intellectual and emotional level as well as physical. Plan a date night in; cook dinner together or find an activity that allows you to focus on each other instead of all the cousins you still have to ship gifts to before Friday. Remember to take the time to listen to your partner, check in emotionally and make sure you are on the same level. If your partner seems to be more stressed out than usual, try treating them to a relaxing dinner or small gift when they get home. You'd be surprised how something small, like picking up their favorite dessert, can turn things around for both of you. 
---
For Singles:
For a lot of people, the holidays can be an emotionally charged time to be single. I personally blame Hallmark and romantic comedies for this overwhelming "single stigma" that surrounds the season, because being single really isn't so bad! Instead of worrying about making this month a magical time for two, all of your time and effort can go into enhancing your own experience. After all, holidays are a time to appreciate what you have rather than what you don't have, and what you have is pretty damn awesome!
If you're single and feeling stressed this year, it's time to put your pleasure first. What is it that you need? A breather? A day to spoil yourself with love and treats? Some sweet release? How about, all of the above…
Treat Yo'Self
Yes, the holidays are a time to show kindness to others, but it's also a great time to be kind to yourself. Just think of what you can do with the money you're NOT spending on a significant other — Oh, the possibilities! Once you've completed all of your holiday shopping for others, don't be afraid to snag yourself something special, as a way of saying "job well done".
Do things that make you feel nurtured and special, no partner necessary. Treat yourself to a massage or a facial; get a manicure; splurge on some sexy lingerie that makes you feel irresistible. If you're not one for self-pampering, there are plenty of other things you can do to relieve some of the holiday stress and make yourself feel good. Whether it's starting a new book, signing up for yoga or buying twelve pounds of homemade fudge,  you deserve a little bit of gluttony wherever you see fit. Besides, time and money spent fulfilling your needs (especially after carrying so many shopping bags or hauling in a Christmas tree) is always well worth it, especially during such a stressful time of year.
Work It Out
It's no secret that exercise can provide a great way to combat stress, or at the very least, channel it into something positive. Focusing your time and energy on constructive activities helps to take your mind off of those stress-inducing subjects and give you a sense of accomplishment, thus improving your mood and boosting your self-confidence. Even if the gym seems like the LAST place you want to be (at least until those New Year's resolutions kick in), there's still one exercise you can do from the comfort of your own home: Your kegel exercises!
You already know about the many benefits of strengthening your pelvic floor, so I'm not going to get into the whole "better orgasms", "increased pleasure" and "tighter feel" spiel. But no matter how busy you may be, between the holiday shopping, gift-wrapping and drinking wine while Bridget Jone's Diary watching, kegels are so quick and easy to do that there's really no reason NOT to do them. And with products like the Intensity by Pour Moi, you don't even have to focus on working out those pelvic floor muscles — The game-changing vibrator/kegel exerciser hybrid will do those pesky sex-ercises for you! Give yourself the gift of  a stronger, tighter pelvic floor with minimal effort.
Turn Up the Heat
Being single for the holidays also means you have unlimited reign to enhance your personal pleasure. While all your coupled friends are trying to squeeze two holiday agendas into a couple hectic weeks, you've got plenty of time to get intimate with little old you. Take this opportunity to explore new erogenous zones, try new masturbation moves and really figure out what makes you tick, sexually speaking. The more you learn about your body and your pleasure NOW, the better your sex life will be in the future when you find a partner who is deserving and willing to learn. 
Another fun and sexy way to bask in your single glory is to turn your focus to your goodie drawer. No partner to spoil with presents? No problem! What better way to fill that deficit than by investing in a brand new toy that will turn up the heat in your solo sex life? Have you had your eye on the new rechargeable Magic Wand? Now's the time to add it to the collection! Have you always wanted to experience a G-spot orgasm? Pick up a vibrator that is expertly designed to stimulate that elusive area, like the Gigi 2 by LELO! Trying something new in the bedroom is a great way to help you get in tune with your body and get out of your head, which can turn into a dangerous place after 2am and a couple glasses of Chardonnay.
---
One of the best things about the holidays is also the knowledge that hey — if this year didn't end up being the BEST ever, you get to turn a brand new leaf just a week after Christmas. You can start the new year fresh, with goals and expectations fit just for you. But make sure you end your year in as good a relationship as you can be, especially with yourself. Happy holidays!