How to Stay Hot and Heavy While Pregnant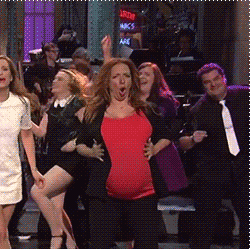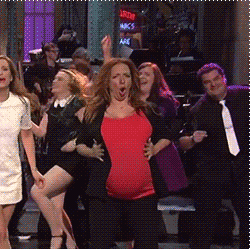 I write a lot about personal stuff. My boobs, my kid, my old dating life, eating disorders, addiction and loss. But for some reason, writing about the bedroom department feels more intimate than writing about the feelings department.
As I move into the third trimester of my third pregnancy, I'm realizing that some of the things I'm dealing with are universal, and definitely not talked about enough. In our mom-to-be circles, we talk about our underwear not staying up, swollen ankles and that guy who thinks it's okay to ask if you're pregnant with twins. But when it comes to sex, we mainly just talk about not wanting to have it.
The thing about being pregnant is that you become a walking universe of body and brains. Your body is not your own; you're a mothership, feeling a galaxy explode and expand inside, changing your outsides daily. And your brain is constantly skipping ahead: will the house be big enough? How will we pay for college? Will she be a drug addict?
And then there are the body insecurities (because most of the time it feels like I'm inhabiting a stranger's body while a tiny stranger inhabits mine). Will this back fat go away? Will I need an entire new wardrobe? Why is everyone touching my stomach?
Everything your life used to be is eclipsed, including your sex life. If you're lucky, your partner wants to get into your full-panel-maternity pants no matter what (mine happens to think that pregnant women are the ultimate in femininity). But—especially if you already have a kid—the idea of sex feels like a long forgotten luxury. (By the time my toddler is in bed, dinner is over, and the dishes are…okay, neglected, the last thing I feel is available.) With all this body and business of the brain, for many pregnant women the idea of sex is just…BLAGH.
But deep down, we all know that if we want our relationships to endure the test of time and trials of parenting, we have to find a way to keep the fires kindled. So here are a few tips to help you moms-to-be maintain the passion in your private lives.
Do I Have To? I'm Tiredzzzzz…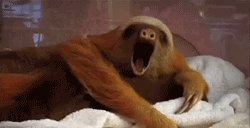 Do you have a partner whom you love and want to stay with for the long haul? Then have sex. Whether it's a 10-minute quickie with a Magic Wand or an evening in with porn, make the time to connect with each other; your body and relationship will thank you.
There is perhaps no more crucial time to maintain your intimate relationship with your partner than when the stakes are high and stress is in the driver's seat. And you think you're tired now? Think ahead to when you're back at work, your one-year-old is still not sleeping through the night and you're trying to wean. That's tired.
And speaking of after the baby comes, sex will probably feel different (emotionally and physically) for both of you, but if you're doing your Kegels (tell me you're doing your Kegels!) things will "feel right" again soon. (If you want the best-short cut to strengthening those pelvic floor muscles post-birth, get the go-ahead from your doctor and spend five minutes with your new best friend the Intensity. This toy and tool does the work for you.)
Maternity Masturbation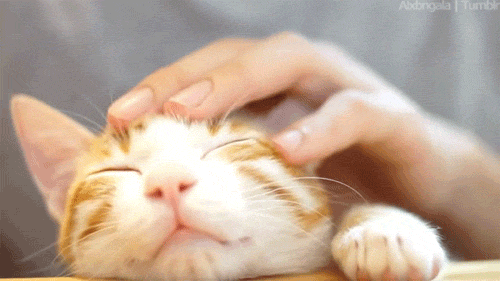 There, I said it. The "M" word that most women avoid. But think of it as self care. You can have a quickie by yourself while your partner is in the shower, and it will make you that much more available and interested later in the evening before you turn on reality TV. For a lot of women, there's a sweet spot during the second trimester when hormones are on fire and our bodies are actually craving sex (I've even had wet dreams). During this time, act on your impulses.
There's a whole world of toys to explore, but when it comes to time management, the Womanizer has the speediest results. This clitoral stimulator is like putting your orgasm on fast-forward, and while it's great when you're alone, it's also small enough to incorporate into sex with your partner.
The most important rule: keep your toys clean! By not properly washing them, you run the risk of getting an infection from harmful bacteria that can remain in the nooks and crannies of sex toys (especially if they aren't made of silicone). If you don't have the patience (or privacy) to wash your toys thoroughly and let them air-dry (next to the sippy cups) before storing them (in your bacteria-free sock drawer?), then invest in the UVee, a genius product endorsed by Emily that stores, charges AND cleans your toys with ultra violet light.
The point is, take advantage of any surge of desire you have, especially if you're alone. Masturbation will help make it easier to transition back into a healthy sex life with your partner after the baby comes, and your doctor has given you the green-light to get back to business.
Toys, Toys, Toys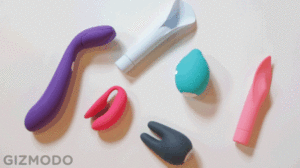 Toys alone! Toys together! Grown up toys are more important than anything on your baby registry and can be a shortcut to some of the best orgasms of your life. Instead of getting all up in your head about maternity leave, assembling the crib and how your bra doesn't fit anymore, build yourself a small arsenal of bedside buddies to help keep things playful and interesting.
First, invest in some good lube. Don't think of lube as something you only need if you're experiencing dryness (though that is common during pregnancy), think of it as a pleasure enhancer. Everyone at the office is a big fan of all things System Jo, and I personally advocate for their NATURALOVE line (it's completely organic).
Next, go toy shopping. You can do this as a hot date night or online. There are some great options out there for partner-play that allow you to be creative with positions. A new favorite around the office is the the Unite by We-Vibe. This c-shaped device not only simultaneously stimulates your clitoris and G-spot, it's also small enough to allow space for your man.
Some women are nervous about using internal toys while pregnant (especially as their due date comes closer). Rest assured that they pose no more risk of interfering with your baby or the placenta than a penis does. Some guys get in their heads about having sex with their pregnant partner (as irrational as it may seem, the fear of "poking the baby" is very real.) My advice? Ask your doctor at an appointment when you're both there to put those fears to bed.
The Importance of Intimacy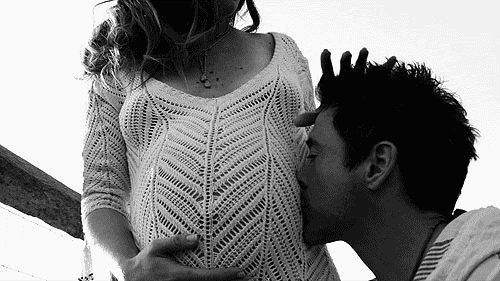 Emily's favorite thing to say is that "communication is lubrication." Staying open and honest with your partner about how you feel—including fears, anxiety, what you like and what you're definitely not in the mood for—are all important. If you keep the focus on maintaining closeness with each other during and after your pregnancy, you are showing each other that you are invested in a healthy relationship for the long haul.
But closeness doesn't only mean sex; it means remaining open to intimacy. Cuddling, massages, lots of physical contact—these are all good for both you and the baby, and they give your partner a role and a sense of purpose in the journey.
So during the nine month march towards a complete life transformation, make pleasure a priority. A healthy body, mind and relationship depend upon our willingness to connect with ourselves and our partners both during our pregnancy and after. So don't skimp on your sexual satisfaction, instead, consider it an investment in your long-term happiness, sanity and wellness.