Vibrator Hysteria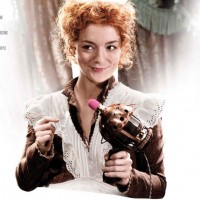 I attended a Jimmyjane private showing of Hysteria in the Opera Plaza Landmark Theater in San Francisco. Hysteria is a romantic comedy about the invention of the vibrator to cure female hysteria– a man-made illness assigned to bored, sexually unsatisfied housewives in the Victorian Era. While their crotchety old husbands fail to recognize their clitoris, a young attractive doctor found every woman's clitoris in London with electrifying power.
The vibrator wasn't invented for female pleasure, but rather to soothe women into meek wives with tamed emotions. Or if you follow the fictional plot of Hysteria, the vibrator was invented so the cute doctor can keep his comfy job conducting "vulvic massages." I guess men didn't realize that vibrations could actually set women free from sexual repression.
In the early days a vibrator for the sake of female pleasure seemed silly. Advertisements only hinted at their true purpose of pleasure. Vibrators were presented  as all-purpose household appliances that improve health and beauty. While I don't doubt vibrators can solve most problems, they probably aren't going to cure asthma. I suppose lady magazines were too polite to suggest a vibrating object might have more use in the bedroom than a husband.
The trend of hiding the pleasure of vibrators continued throughout the twentieth century. The famous Hitachi Magic Wand from the 1970s was advertised as a back massager but soon became known as a God among vibrators. Soon after came the I Rub My Duckie, an innocent looking bathtub tinker toy with three speeds. (A perfect gift for your friend's baby shower). Whether considered massagers or clever playthings, people refused to take vibrators completely seriously as objects for female pleasure.
While vibrators are still largely considered novelty items, they have finally won a place in our hearts and our vaginas. Sex in the City brought vibrators into the mainstream when Charlotte, the most prudish character on Sex in the City, fell head over heels for her Rabbit Pearl.
Jimmyjane, the vibrator company that showcased Hysteria, exemplifies how modern vibrators have started to shake off the stigma of earlier times to become highly designed objects of desire. Jimmyjane vibrators aren't disguised as domestic appliances or get tucked away under the bed. Instead they are emblems of pleasure that sophisticated women use to excite, not to soothe.