"I can't orgasm"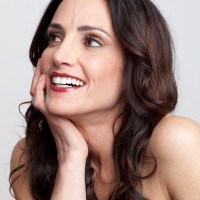 Dear Emily,
I am 26-years-old and (as far as I know) I have never orgasmed during sex. I have an amazing boyfriend that I am so incredibly in love with. I have the best sex life with him that I have ever had and I still feel like I should orgasm because my body tightens up, my breathing quickens, and my muscles feel slightly strained. However I never orgasm…My boyfriend has recently expressed his feelings of inadequacy because of this fact and to be honest I feel like something is broken because I can't orgasm. I have tried on my own, with him, and stimulating myself with him. I felt like I came very close recently but then it just went away…(GAH!) When I have felt close it has been when I'm on top and my clitoris is simultaneously hitting his pubic mound as I'm thrusting. PLEASE HELP US! We both really want me to orgasm!
Thanks!
Sylvia
Dear Sylvia,
If you aren't sure if you've orgasmed you haven't orgasmed. Trust me, you'll know when it happens.
The good news is that you're having the best sex of your life AND you're incredibly in love with your boyfriend. Now all you need is a mind-blowing orgasm and your life will be complete.
If you want to orgasm during sex you have to take responsibility for your own pleasure. Your boyfriend isn't sexually inadequate and your body isn't broken. You just need more clitoral stimulation to get you there. Not only do 75% of women need clitoral stimulation to orgasm, many women require lots of it.  Most sex positions offer little to no clitoral stimulation. When you're on top you experience more clitoral stimulation but it's still not enough.
Some women orgasm relatively easy through manual stimulation or sex. Others need a vibrator. For you I would suggest buying a subtle yet powerful clitoral vibrator like the Jimmyjane Form 2 . Use it on your own and then use it with your boyfriend during sex. Play with your vibrator on your clitoris while he is inside of you.  If you really need to step it up get a Hitachi Magic Wand and use that during sex. It's not subtle but it is effective. If you don't orgasm after a minute or two using that during sex then we should talk.
Get a toy and try to enjoy the ride. If you're having the best sex of your life with someone you love don't get too caught up with grand finale. It will happen when it happens.
xxx,
Emily