I Wanna Be Naked Creme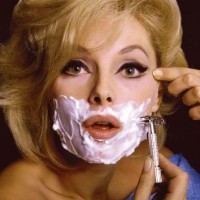 I have become so fed up with foamy, gelatinous, fake floral or fruity  scented shave creams and gels that I have gotten into the habit of lazily smothering hair conditioner on my legs and nether regions before a shave.   Or, I re-use my Venus "built in shaving cream" razor over and over until there is no shaving cream in it any more; and, then, use it beyond….
Eventually the "beyond" stops when I get a nick or cut causing some embarrassing bleeding or (God forbid) bloodstains on my clothes.  (The worst happened this summer when nick/cut casualty showed up on my white bikini bottom… at a Hamptons beach party).
Though I consider myself a "Shave Nick Warrior," my boyfriend is not a fan.  He convinced me to try Crazy Girl Wanna Be Naked Intimate Shave Crème knowing that it would be difficult for (this Jew) to be impressed…
First thing, the bottle looked like a nice lotion rather than a CFC emitting canister.  The plumeria smell had no artificial hints and was not overpowering.  I enjoyed slathering (ahh- that's not quite the right word- smoothing) the crème along my legs and felt sexy running my razor over my gams.  I won't comment on the further body experience…
The Crème is safe to use on any area, including face (if you forgot the upper lip wax) and sooths skin from irritation— so, forget the embarrassing razor burn and bumps.  The hair and skin moisturizers, such as jojoba oil, soften skin and makes hair less course— an added plus, especially if you are a waxer and turn to shaving for a last minute fix.  The less course the hair, the easier it is to remove, whatever the hair removal mechanism may be (and obviously  a smother surface is provided if the inevitable stubble creeps in).  Crazy Girl Shave Crème is safe for all skin types and  all natural; and, an added bonus–  the crème contains a pheromone sex attractant.  My boyfriend noticed the difference after my Crazy Girl experience from all angles…
Unfortunately, I did not discover until Labor Day weekend. From now on, I can forget packing the pareo to hide any burns or stubble; and, enjoy the shaving experience so I can wear short shorts.  An added bonus-  I'm psyched to try other products— Coochy After Shave Protection Powder and botanical After Shave Protection Mist— by Crazy Girl's sister company Body Boudoir, to intensify the shaving experience.