International Lingerie Show in Las Vegas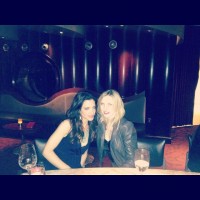 Emily and I attended the International Lingerie Show (ILS) in Las Vegas. A bunch of companies in the sex industry come to Vegas for three days to display their goods. At the conference there is a lot of tacky lingerie and tourists from Middle America getting glittery eyelashes glued on while hesitantly picking up dildos. Scantily clad women stand next to booths, admired as products. They are paid to smile and be cute. In Las Vegas, most everything is treated as a commodity, especially women. However, there are men at the conference on display who I am happy to objectify all day. There is one muscular man who can probably smash cans with his butt cheeks. Then there's a lanky, pale man with dragon underwear containing his unimpressive junk. The pair of them cannot be taken seriously. But in some ways that is the point of Vegas—to not be taken seriously.
Everything is on sale and nothing is real—the Eiffel tower is full of slot machines and overpriced Martinis. Caesars palace is a shopping mall with a painted sky. While there is nothing acceptable about conspicuous consumption, objectifying women and cheating on your wife with a woman half your age, at least Las Vegas doesn't pretend to be something it's not. Las Vegas is obviously selling a product and I'm buying it.
The ILS conference is full of fascinating products. Emily gets tied up on a cushion from The Liberator, which creates the perfect angle for G-spot stimulation. They also make a Faux Fur Fascinator Throe, which easily absorbs semen, lube and other sexual leftovers.
Other notable products were the Rock Box and the Magic Banana.
The Rock Box is the strongest vibrator in the world and kind of scares the hell out of me. It looks like a tongue attached to a power tool. It's not messing around. While it is heavy to hold, you fortunately will not have to hold it for long. It gets the job done, according to the woman at the booth. I trust her with my life. Under no circumstance let this powerful tool (the Rock Box) touch your balls.
Then there is the Magic Banana, which looks more like a bike lock than a piece of fruit. Although I am skeptical of the Magical Banana, I'm impressed that a yoga instructor from Canada created the product specifically for female G-spot pleasure.  Apparently I'm a sucker for yogis with something to sell.
The products at the ILS show are fascinating in a way that makes me a little nervous. Where do the "love juices" go after they are absorbed by the blanket? Is my clitoris ready for a power tool? Should I trust a yogi to make me orgasm?
If you can stay sober long enough, Vegas can make you ask yourself a lot of questions. While Las Vegas is a series of imitations and expensive drinks, it is also a powerful shot of reality.  Blown-up advertisements light up the sky, women strip for money in glass boxes, and pleasure is only for purchase.
At least when it comes to sex toys, you are buying pleasure and not just a fantasy of happiness and completion. Sex products can actually get you where you want to be–depending on the toy of course. Emily and I certainly did not leave Las Vegas empty-handed. Emily even got stopped at the Las Vegas airport security for some questionable items in her carry-on.